Company Preference
Configure bill pay via email & SMS
There is the option to send statements and bill pay links to patients via email and SMS.
The send statements via email and SMS options are configured in Billing Utility.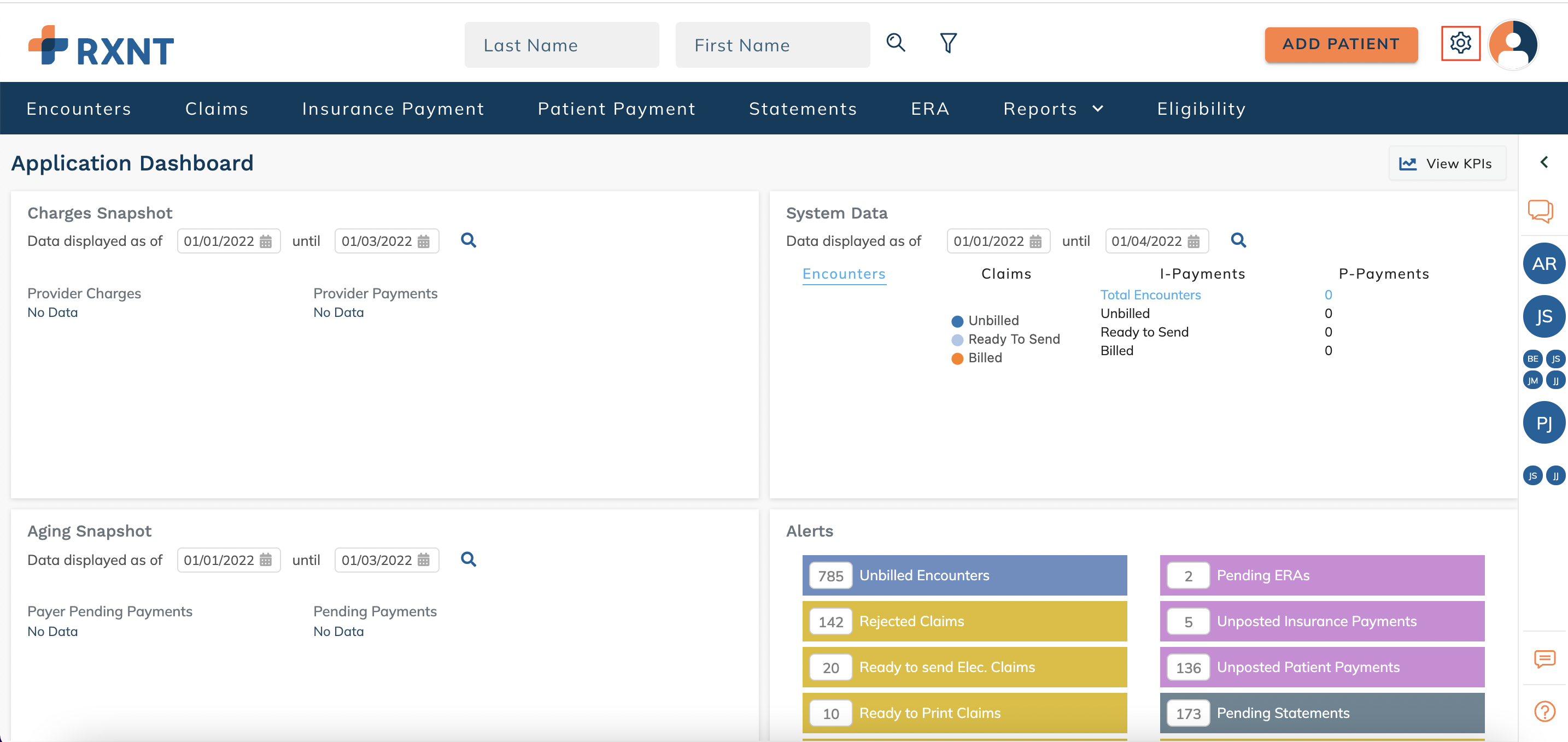 Click on Billing Utility's Company Preferences.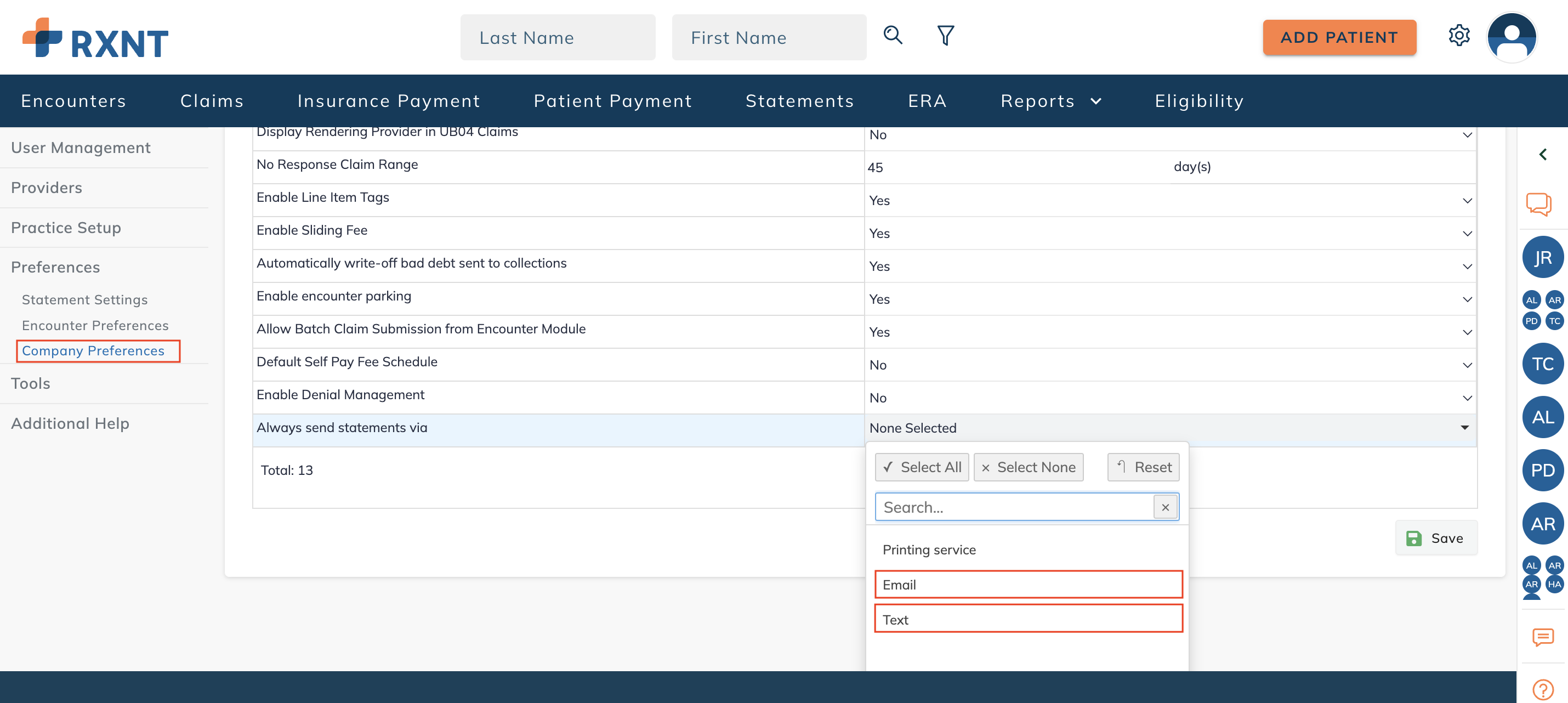 Navigate to Always send statements and click on the drop-down to open the available options that include Email. Select the Email & SMS options.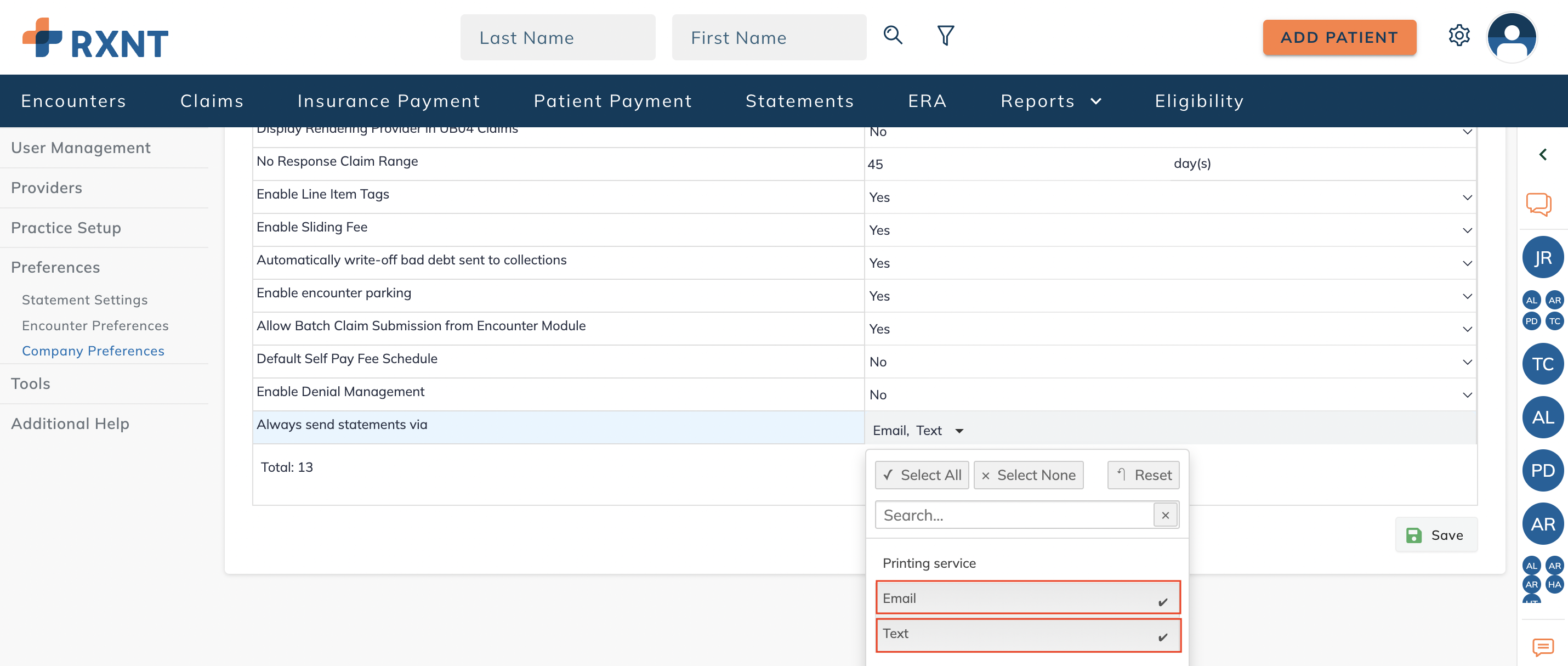 Click around the drop-down area to close the drop-down.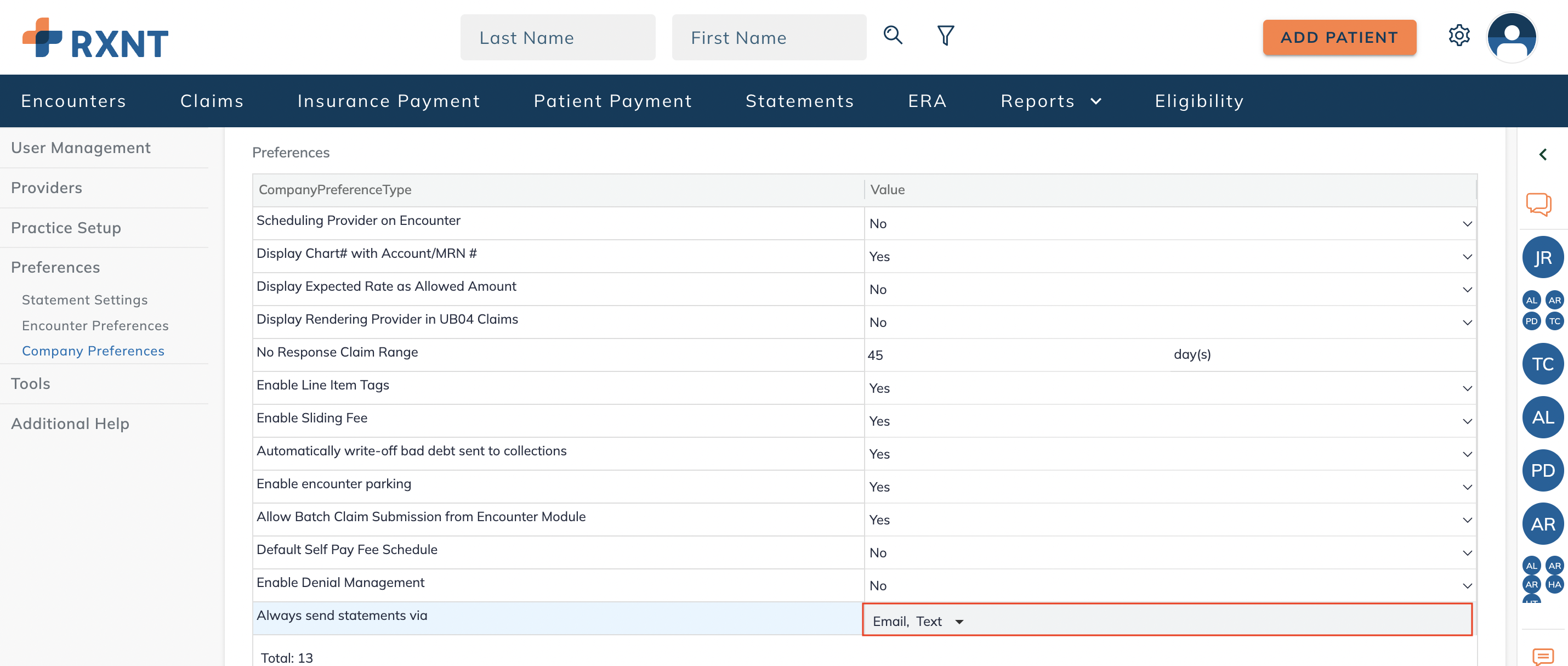 Click on the Save button.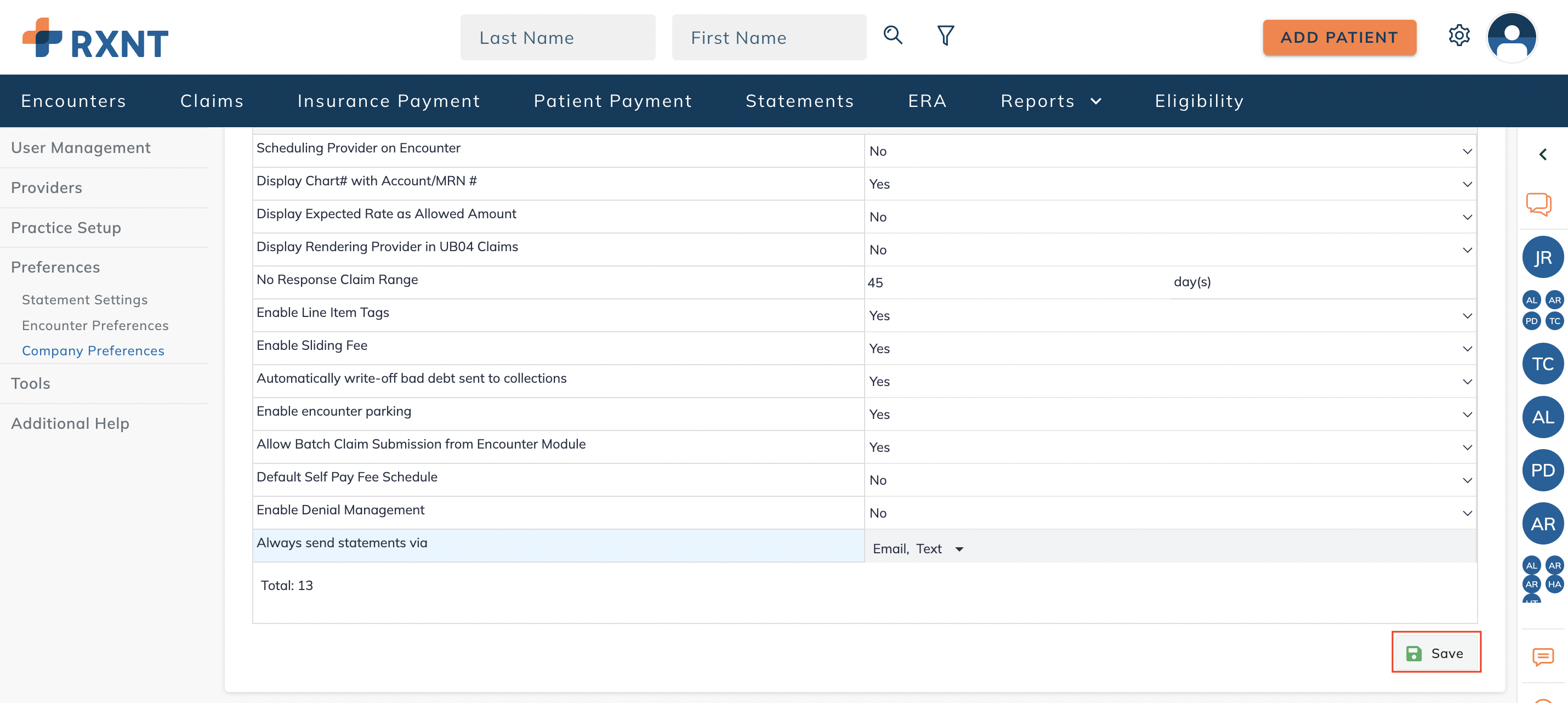 View the Saved Successfully confirmation message.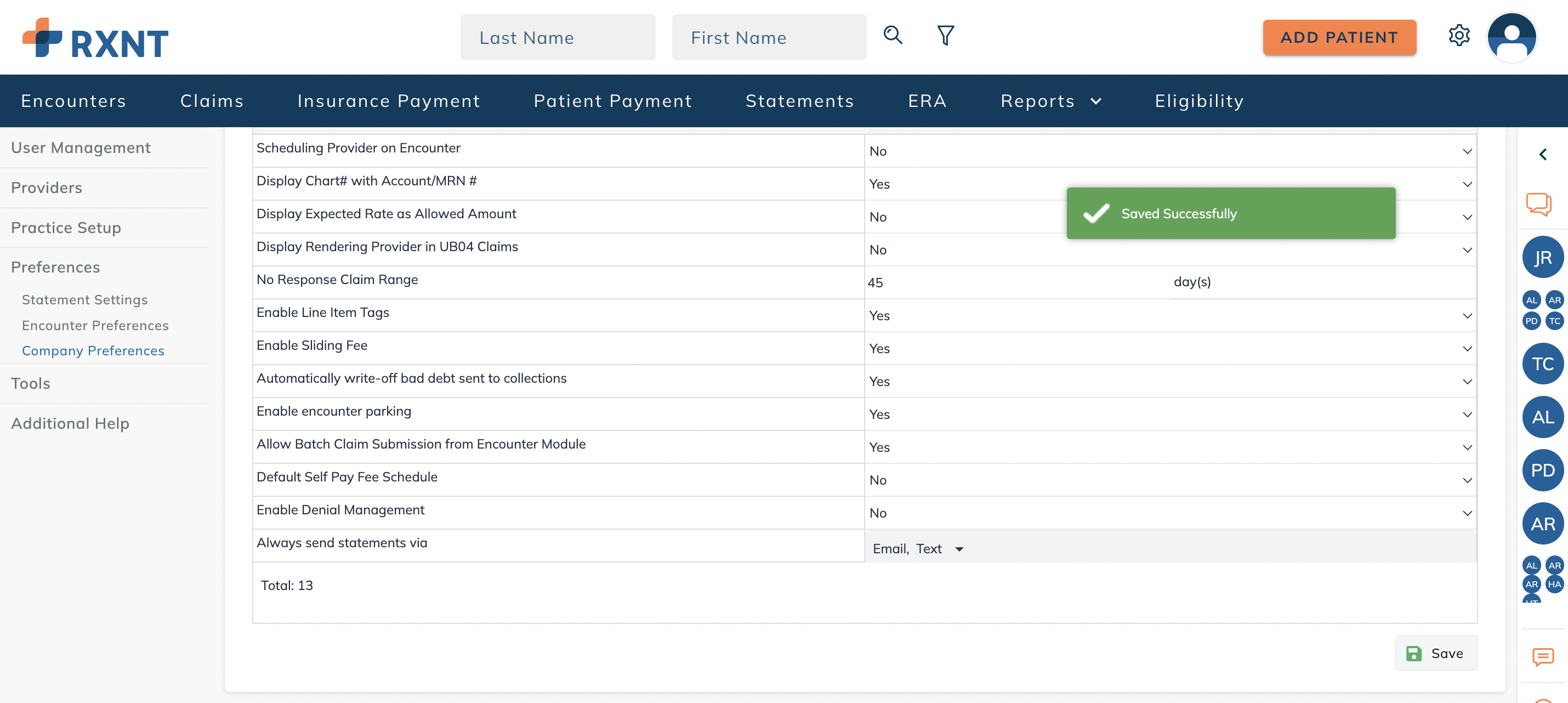 Send e-statements via email & SMS
The send statement to patients via email and SMS options are completed in the Statements screen.
Click on the Send button drop-down.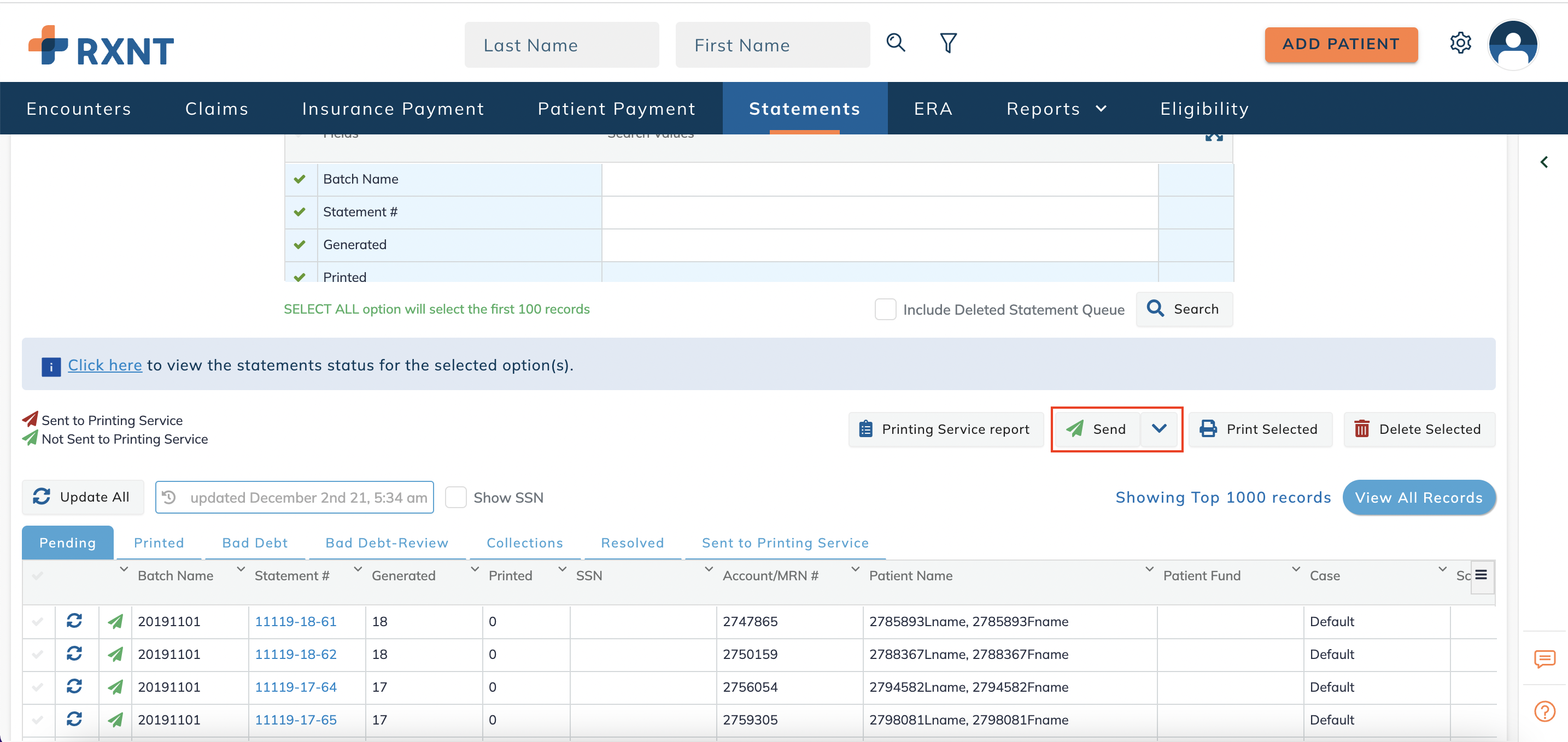 The dropdown opens the available Send options.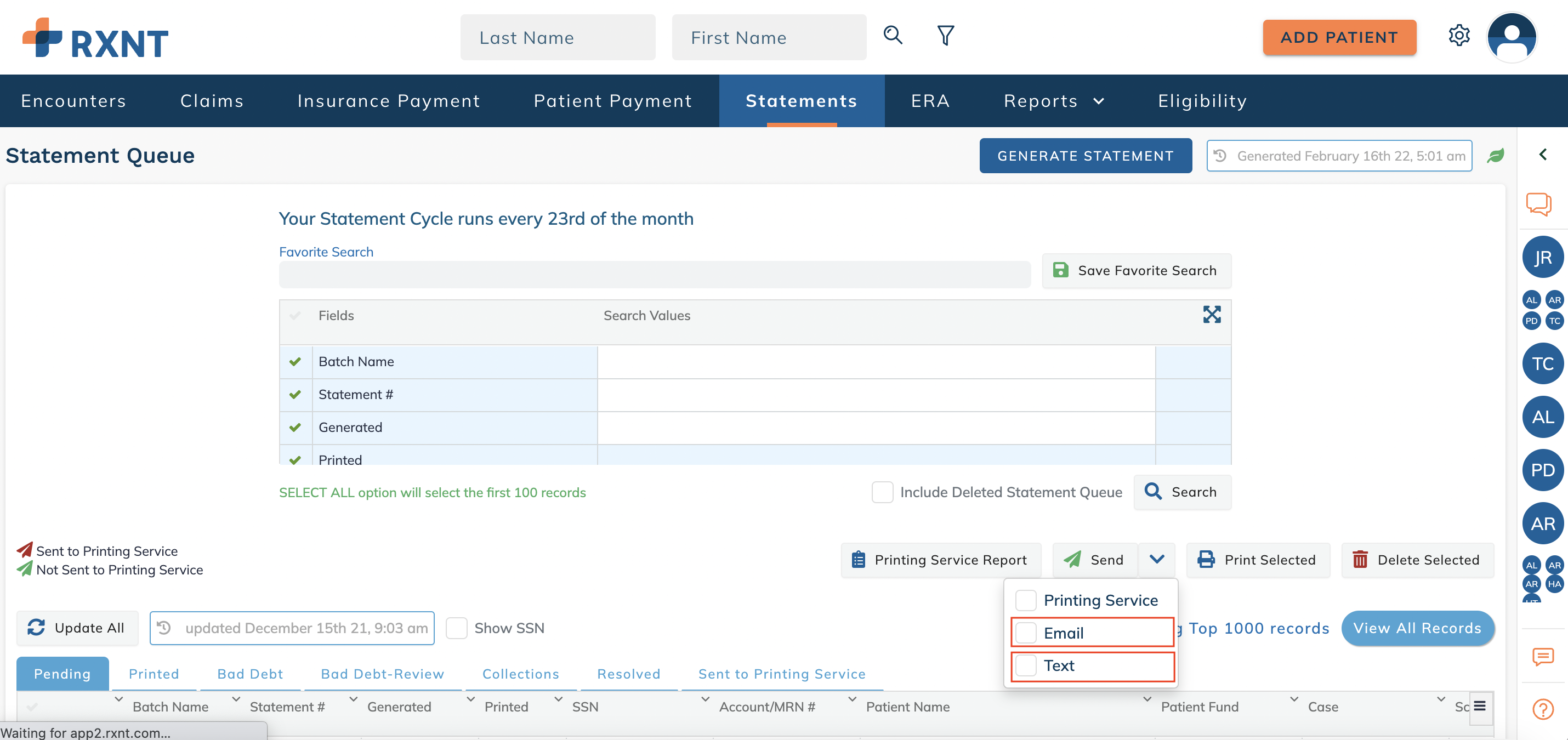 Select the Email and/or SMS option and the statements to be sent to selected patients via email and/or SMS.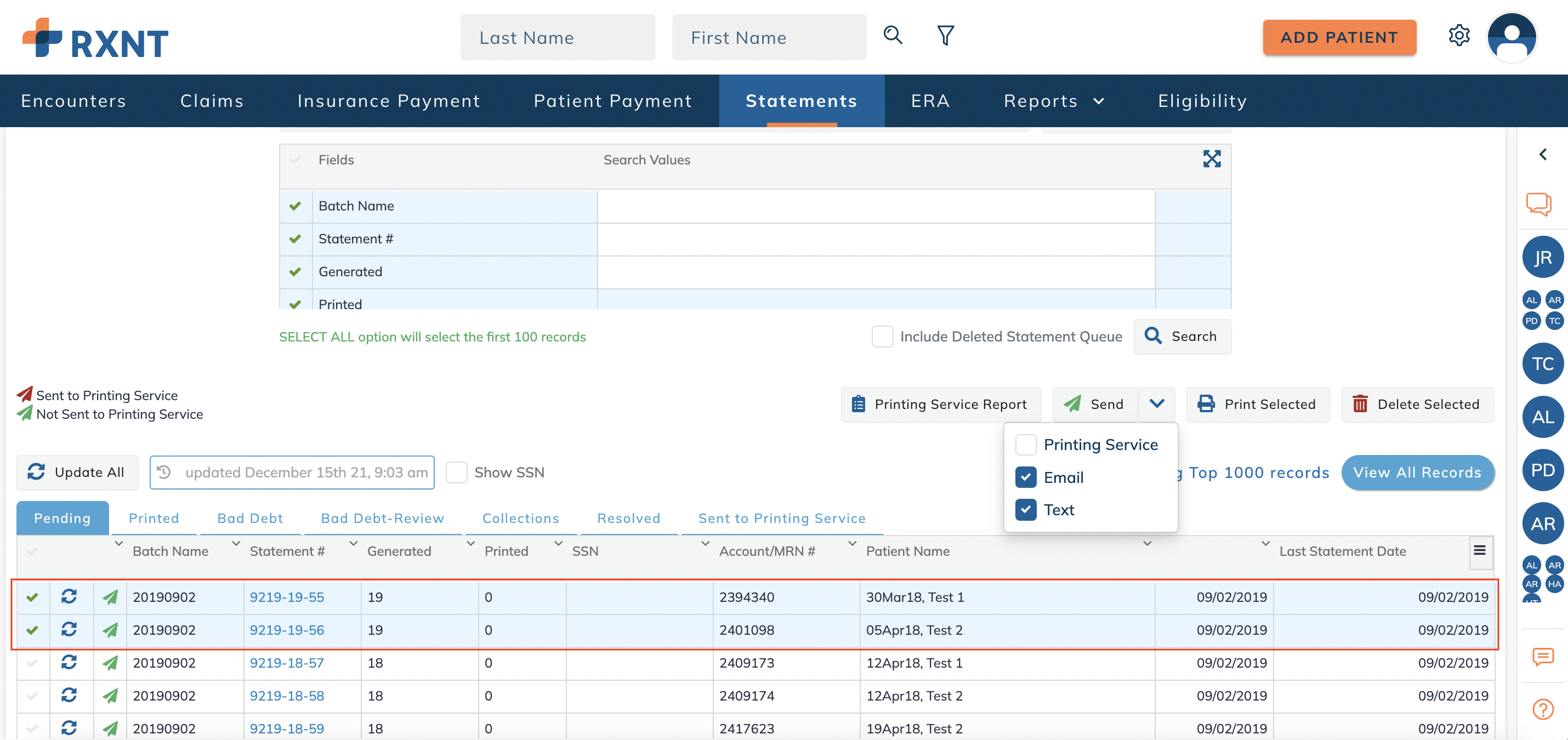 Click on the Send button.
Additional information is provided, and e-statements will be sent only to patients that have SMS or email communication preferences selected.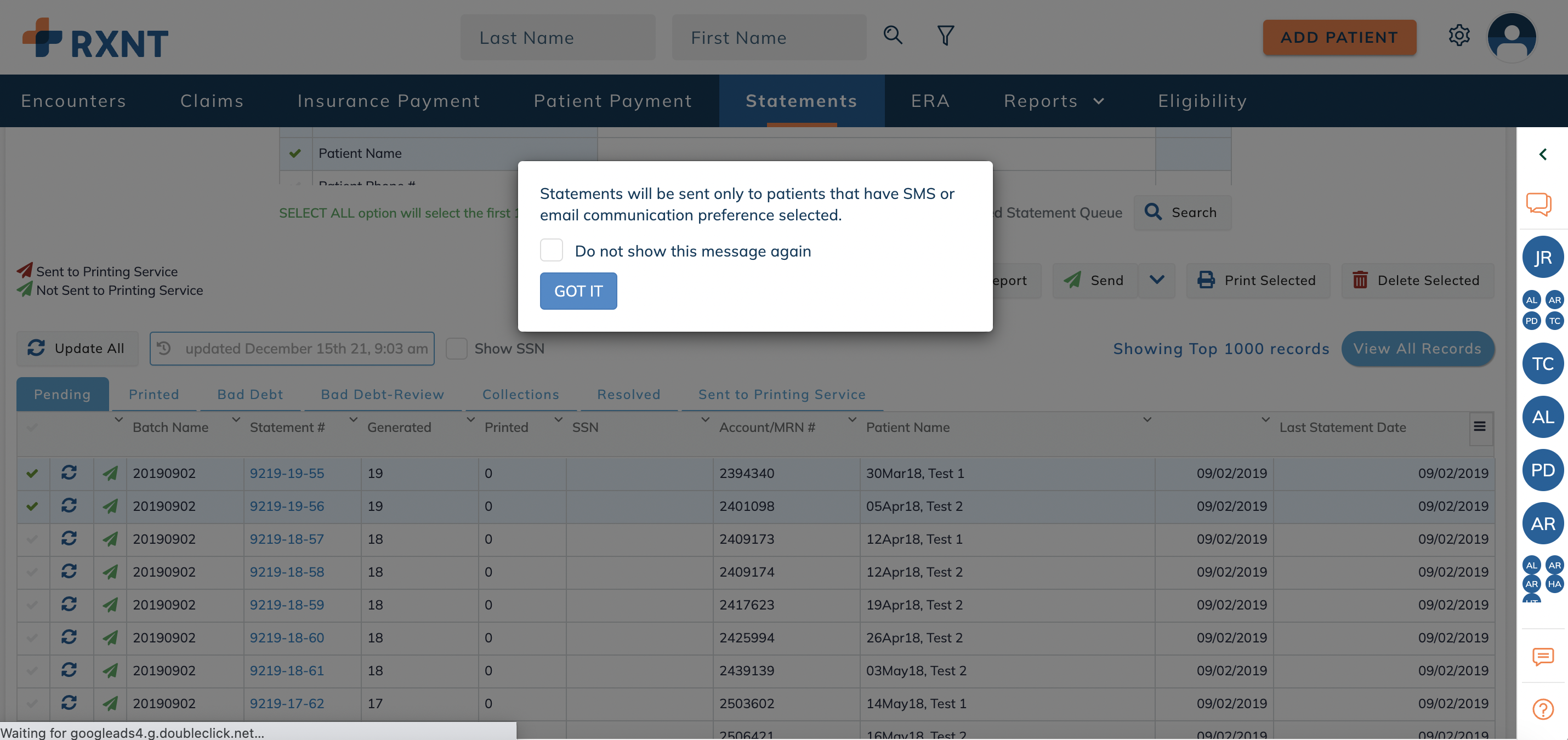 Click on the Click here link to review the Send statements status.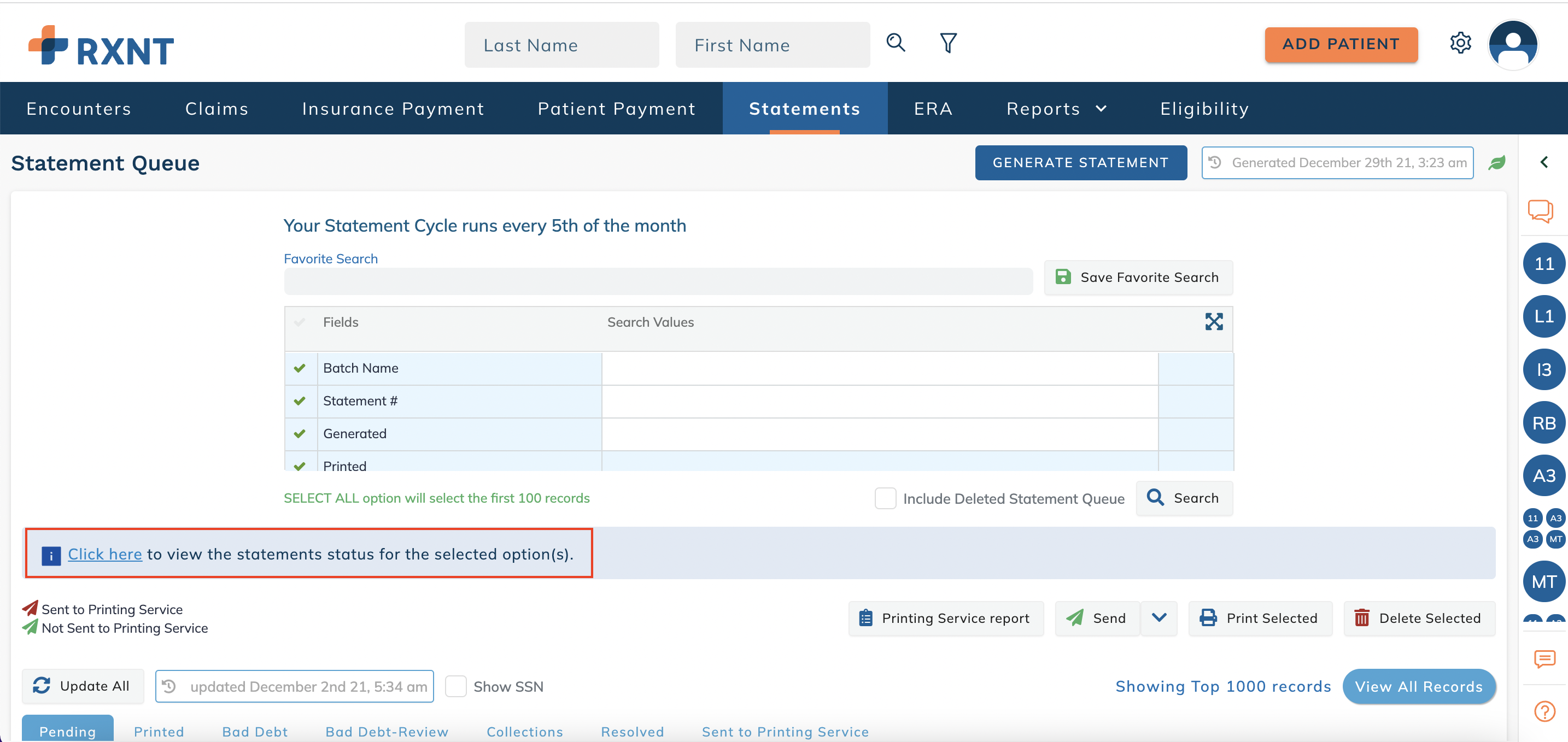 The Click here link opens up the Queue status window. Click on the Email tab to review the email send statuses.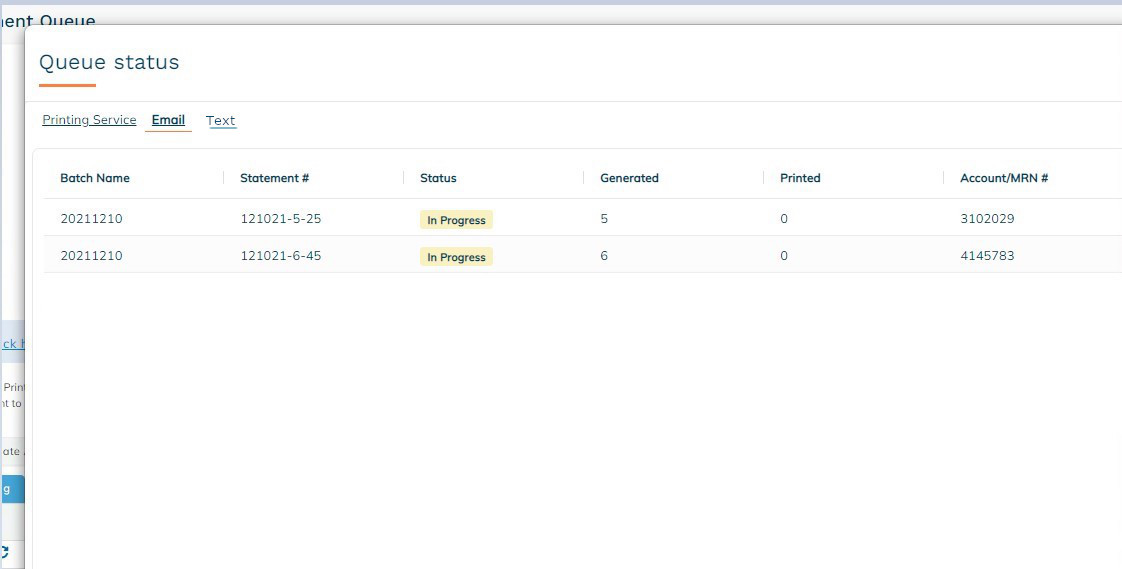 Click on the Text tab to review the text send statuses.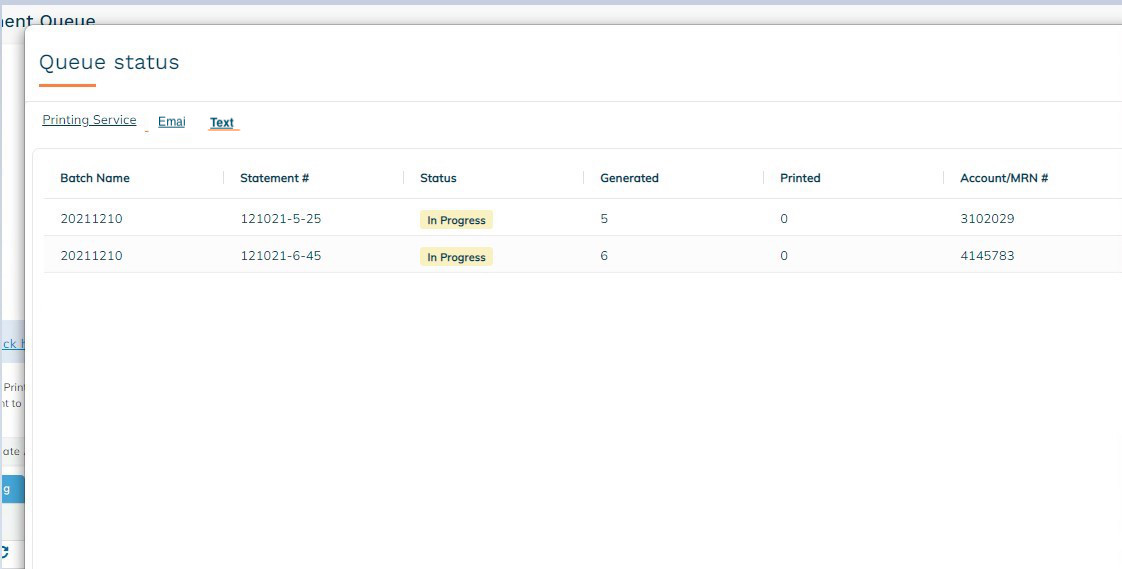 Sent email & SMS templates
A sample of a statement was sent to a patient via email.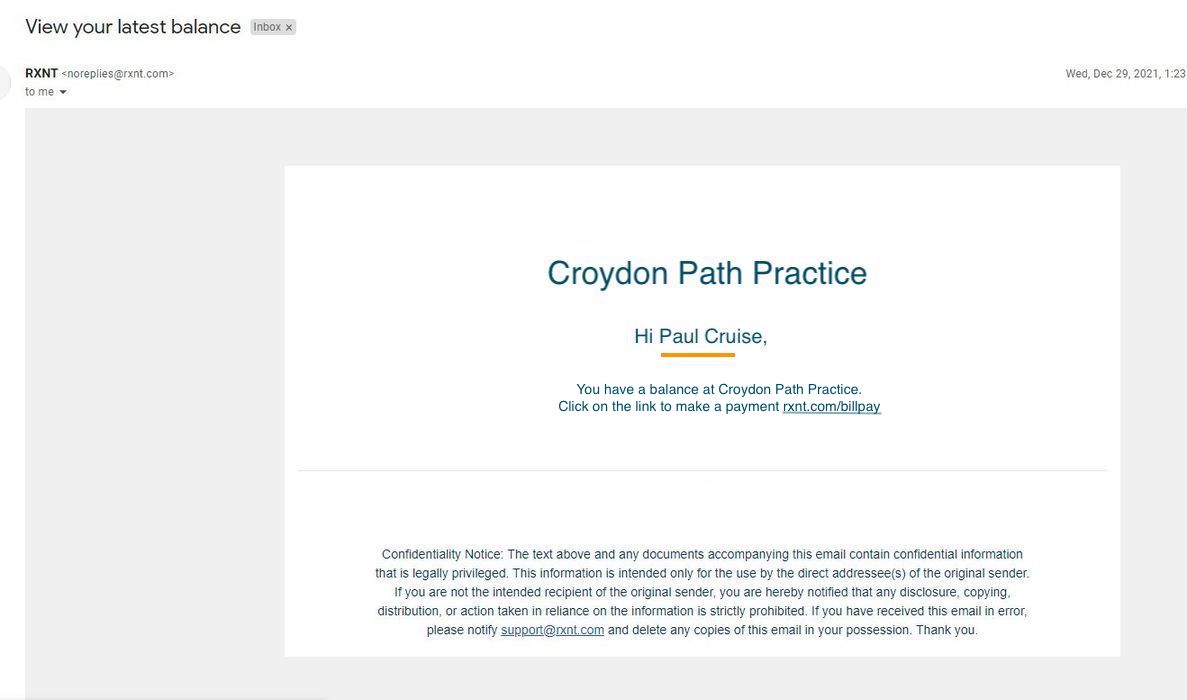 A sample of a statement sent to a patient via SMS.
You have a balance at Croydon Path Practice. Click here to make a payment: https://rxnt.com/patientbillpay/?
Scan QR-Code in Statements
A QR Code (Quick Response code) feature is integrated into patient statements for quick access to the patient account for online payments.
Patients can scan the QR code using the built-in camera app on their smartphones to access their accounts and make payments.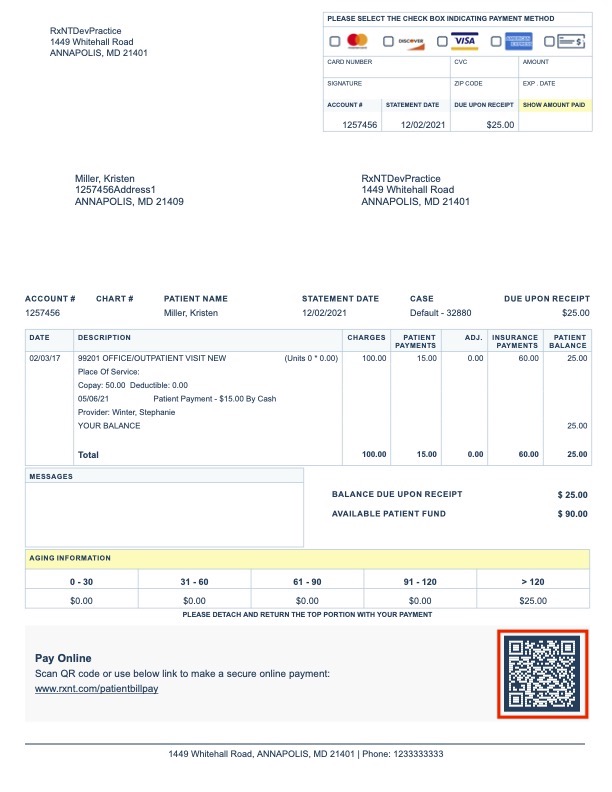 Enable and set up Sliding Fee
The sliding fee schedule lets you automatically calculate patient discounts based on patient salary ranges.
Click Utilities.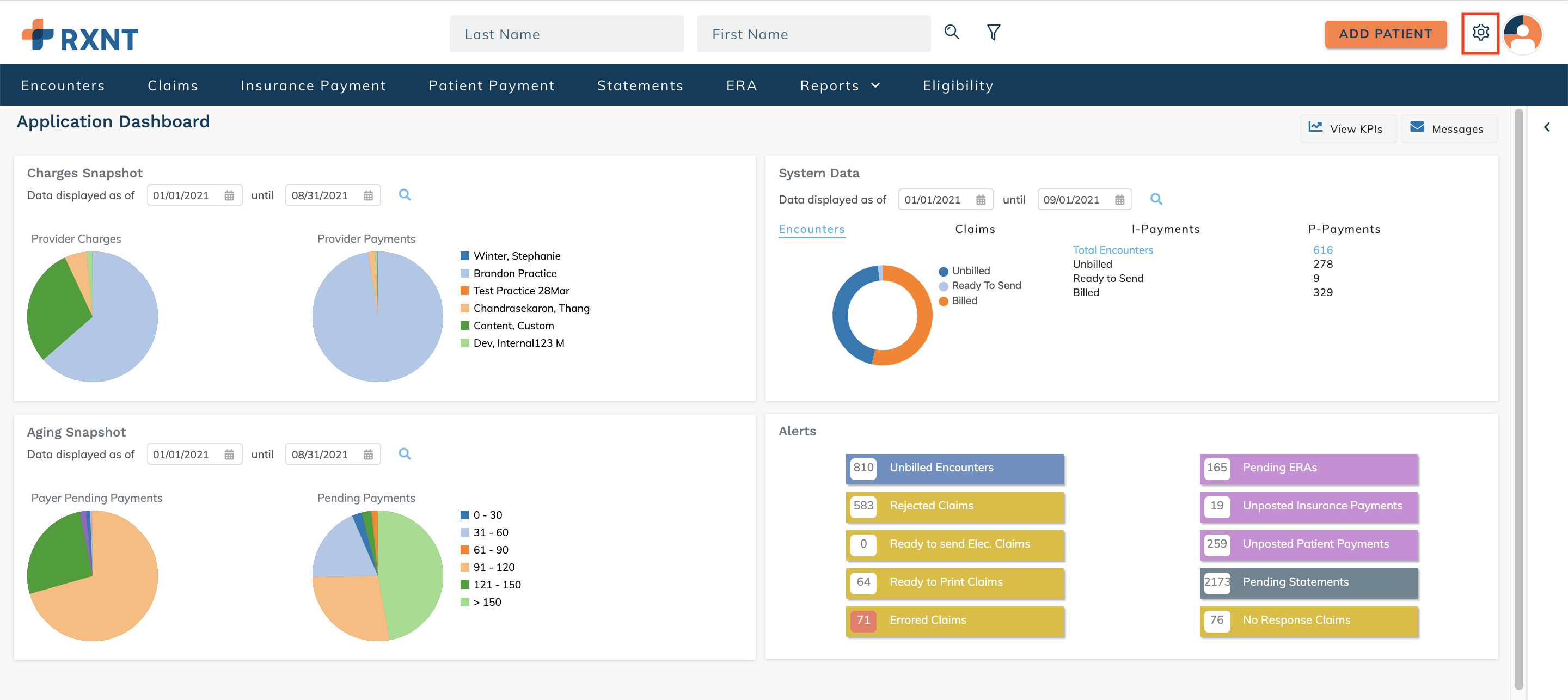 Click Preferences and Company Preferences.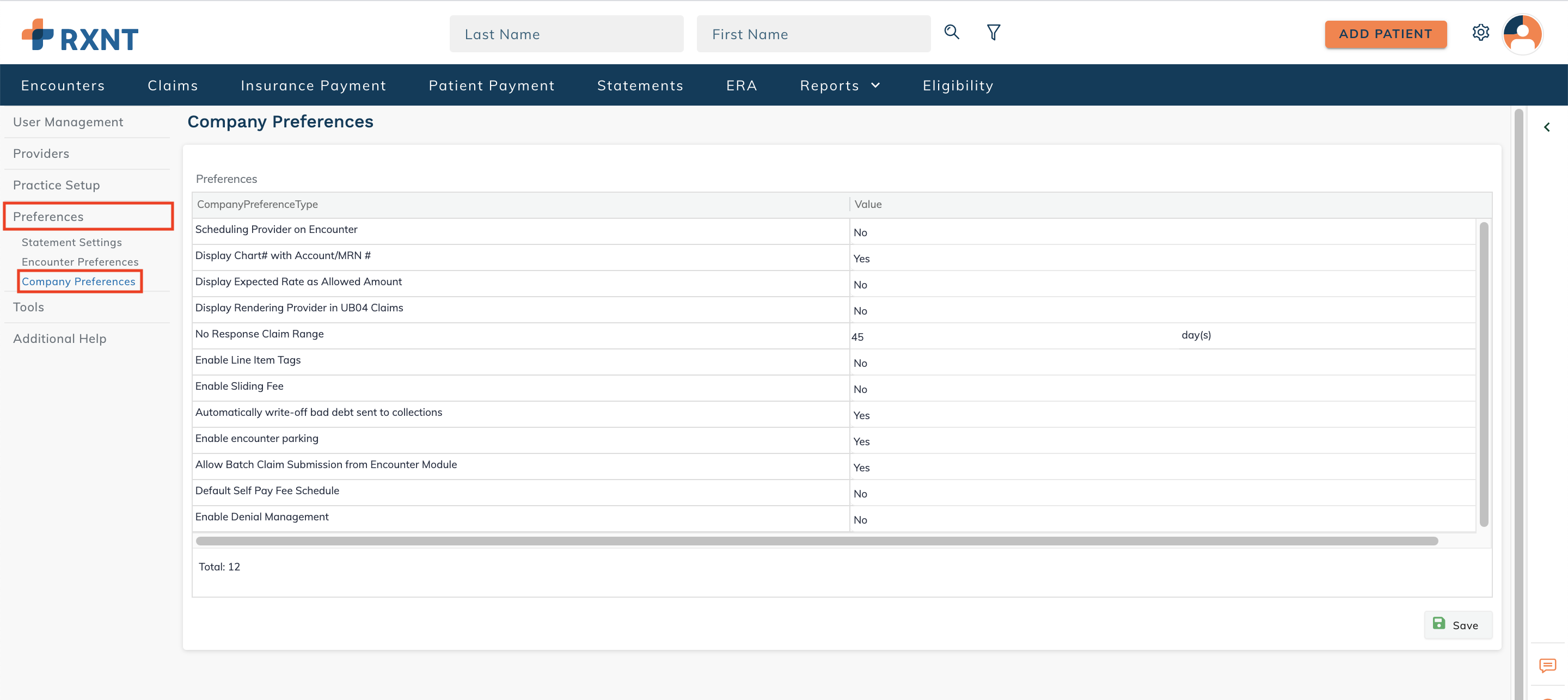 Scroll down to Enable Sliding Fee and change the drop-down to Yes.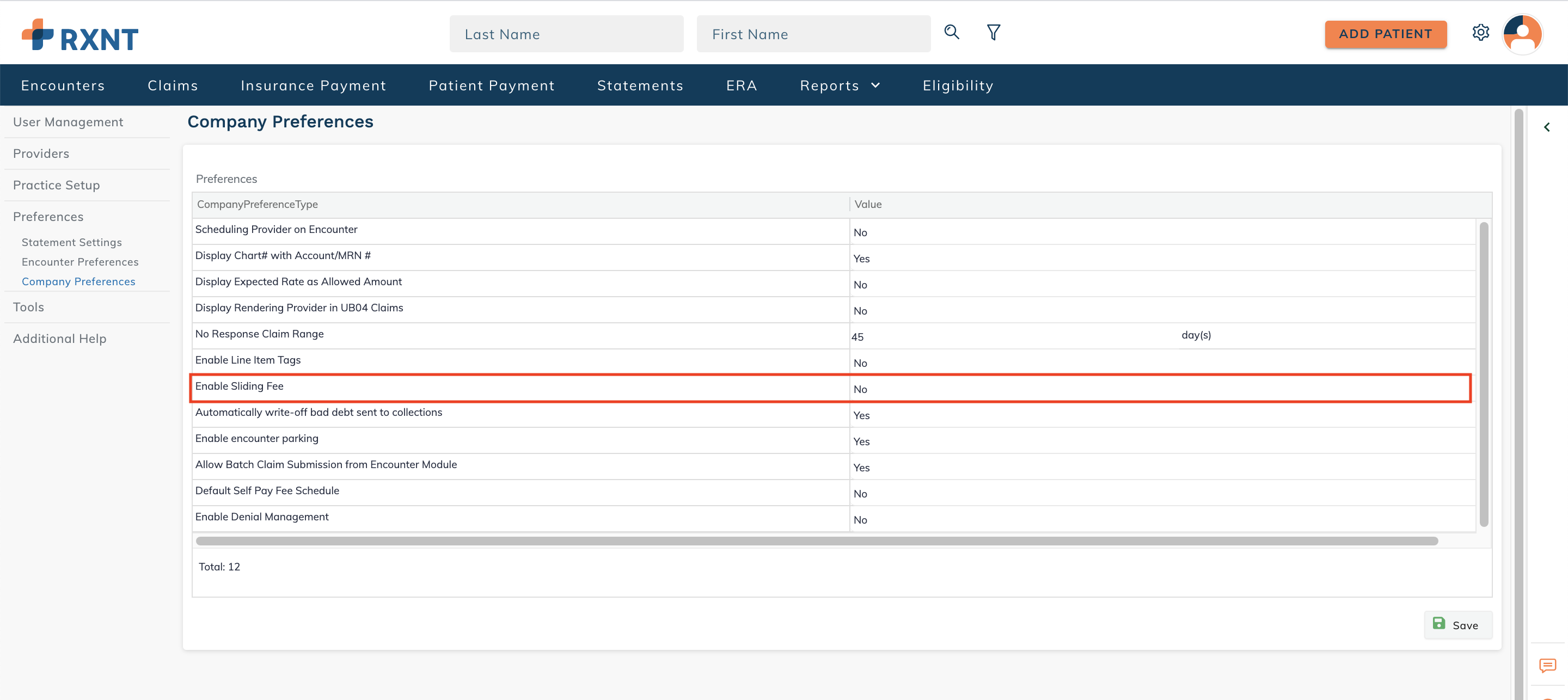 Click Save.
Note: You will need to log out and back in to ensure the preferences are set.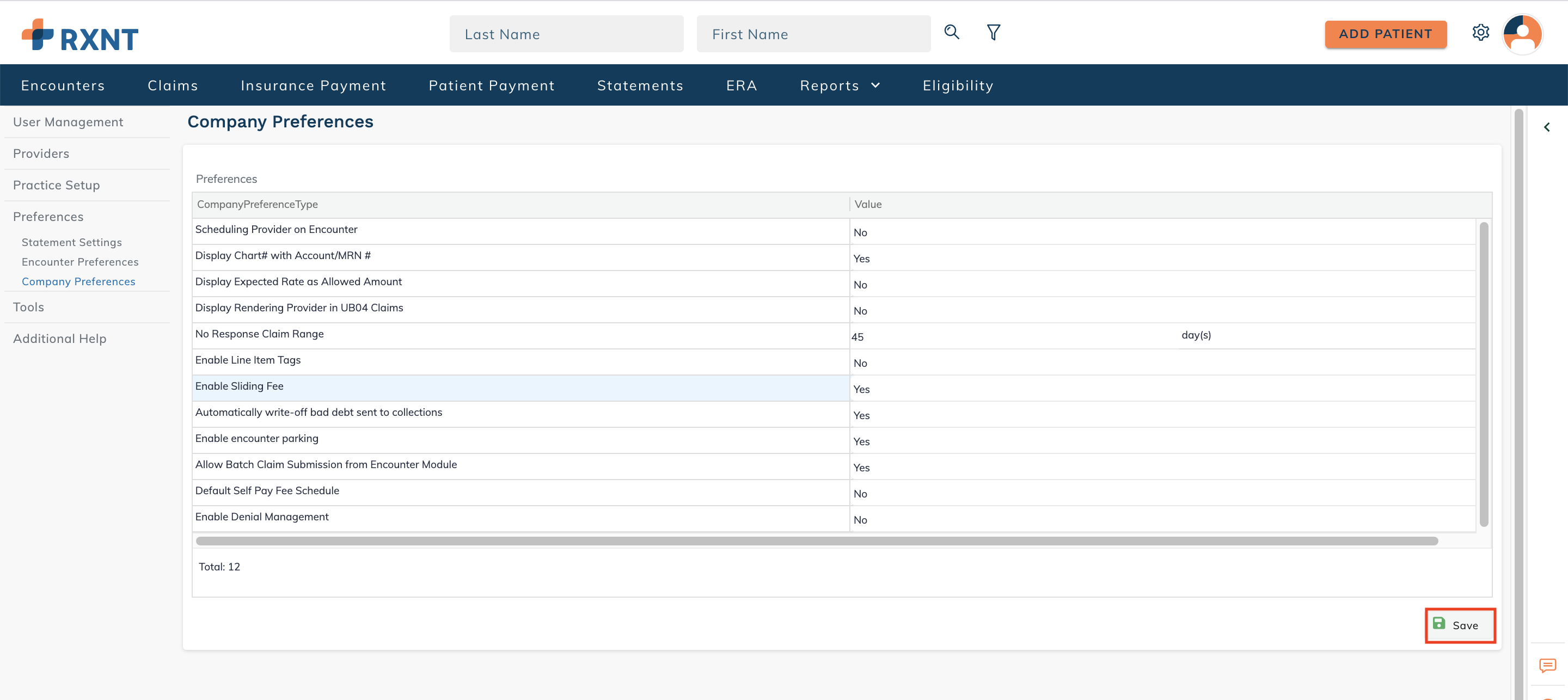 Click Utilities.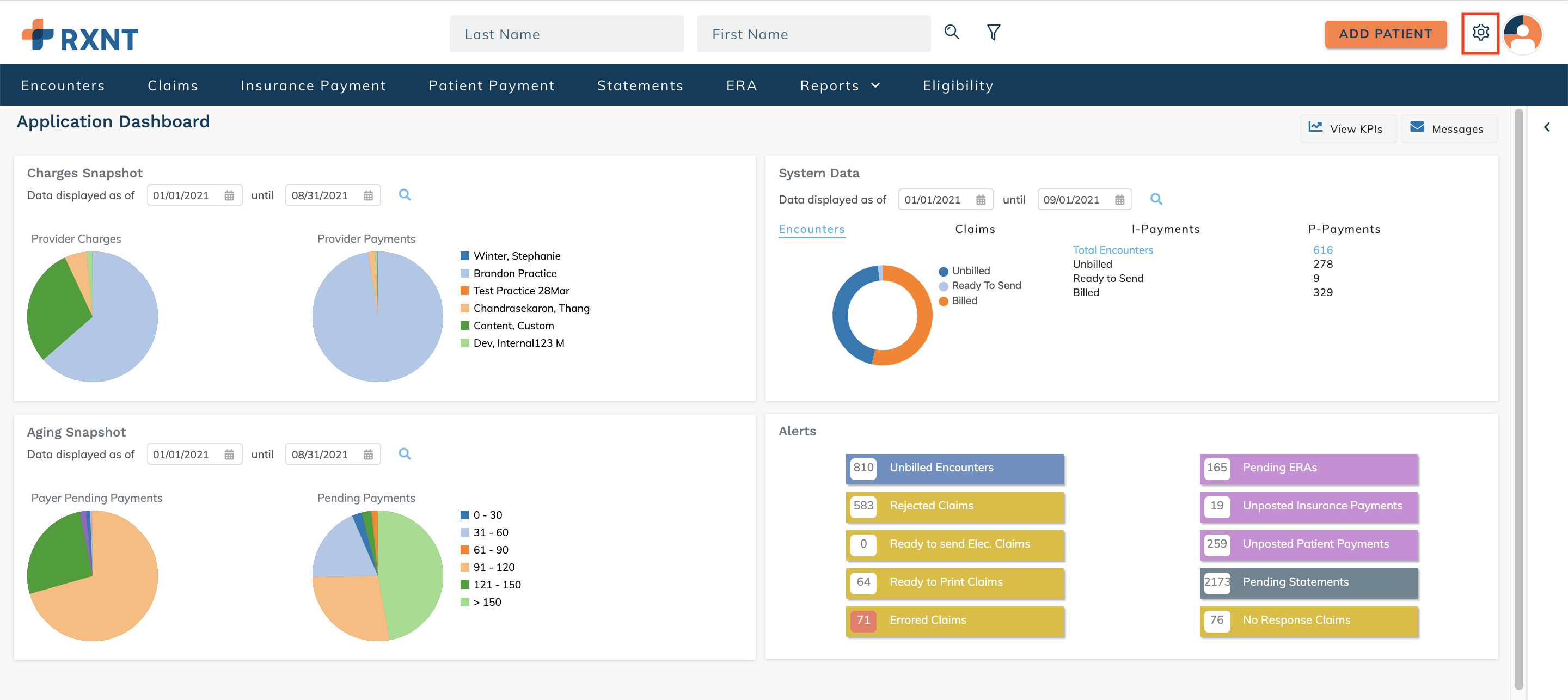 Click Practice Setup and Sliding Fee.
Note- This option will not appear unless you log out and log back in.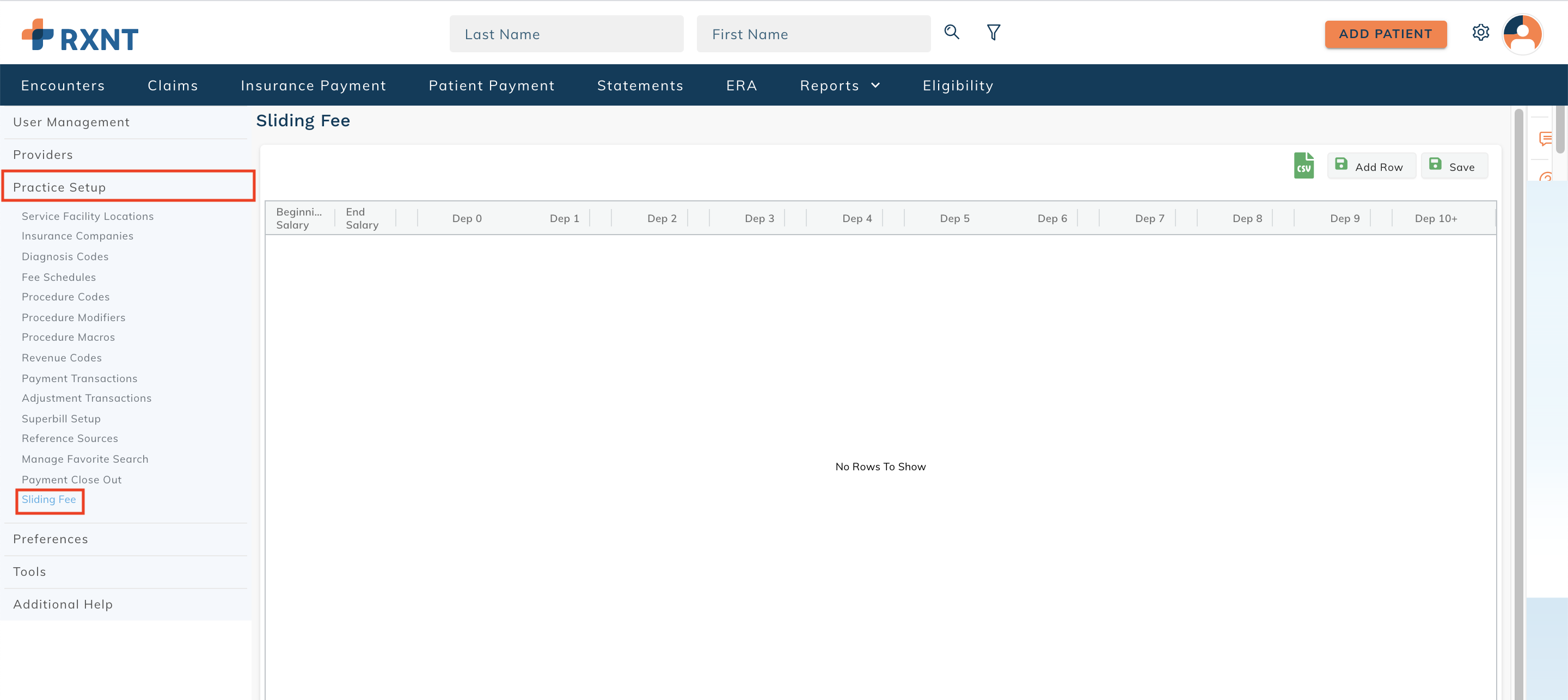 Manage the master sliding fee by entering patient salary ranges in the "Beginning Salary" and "End Salary" columns. Next, select the patient responsibility for each dependent column. Don't forget to "Save" the settings.
Note: The patient's responsibility can be entered as a dollar or percentage amount.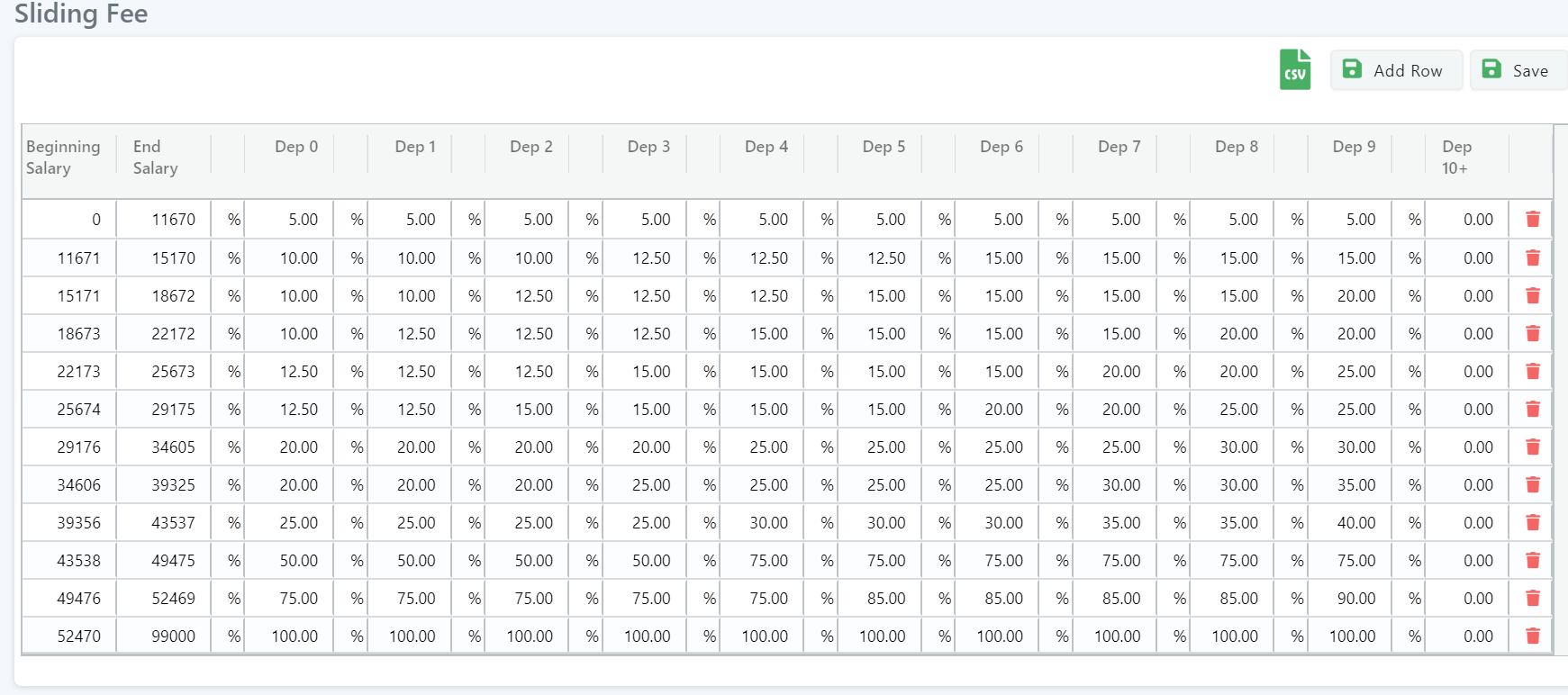 Setting up a sliding fee for a patient.
Navigate to the Patient Dashboard Demographics screen (click on the patient's name in the dashboard) for applicable patients.

Select the "Sliding Fee" button to open the "Patient Sliding Fee" screen.

Note: Check "Enable sliding fee for this patient" at the top of this screen.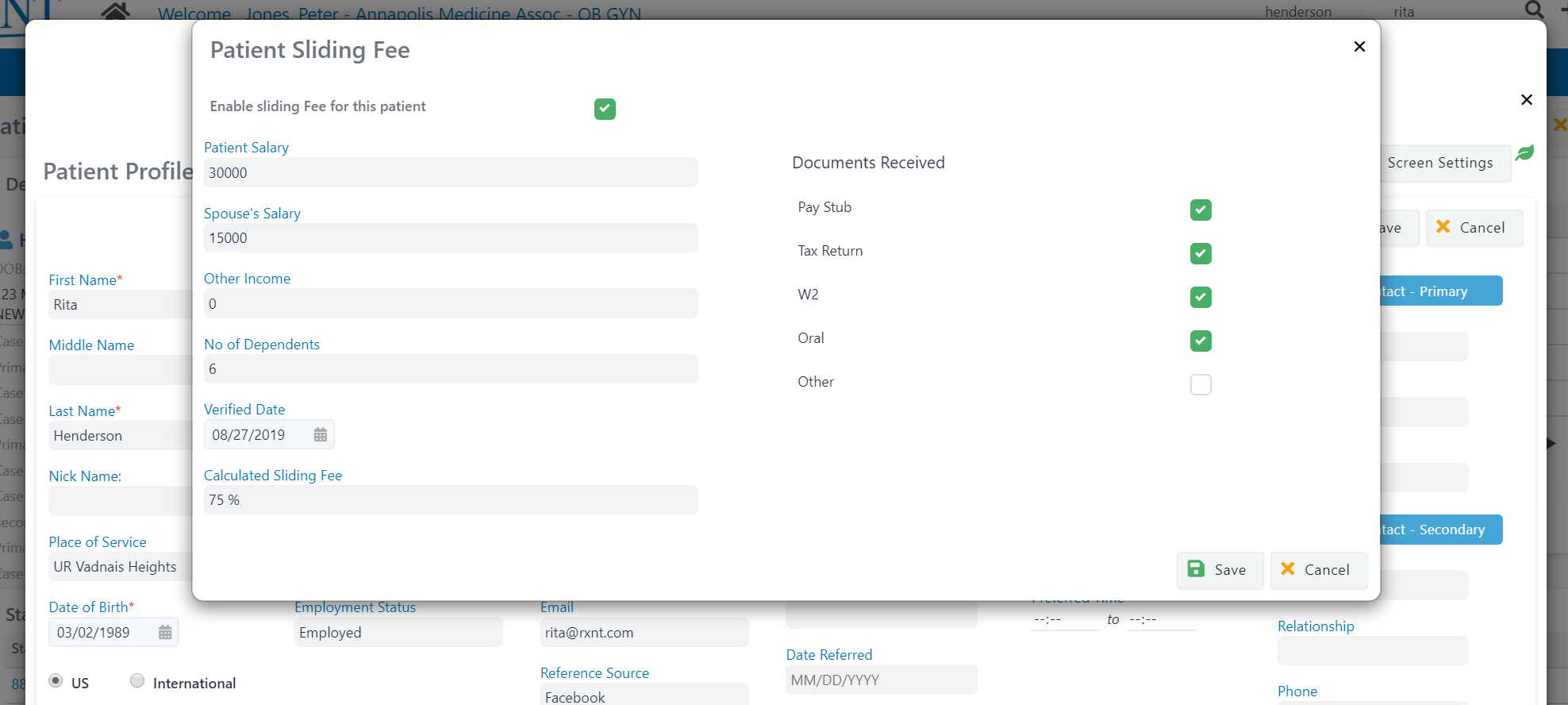 The information you'll need includes:
Patient's Salary - How much the patient earns annually.
Spouse's Salary - How much the patient's spouse earns annually.
Other Income - Other income the patient receive in addition to their annual salary.
Note: These three amounts will be totaled in the sliding fee table row.
Number of Dependents - Number of people who are relying on the patient for support. (Ex: children/non-working spouse)
Note: The number of dependents is used to identify the sliding fee table column.
Verified Date - The day your practice received the documents that enabled you to verify that the patient qualifies for a sliding fee.
Calculated Sliding Fee - Amount you are requiring the patient to pay as a percentage or a dollar amount.
Documents Received - You have collected the patient's work forms to verify the information needed on this screen.
Note: These forms let you accurately charge the patient's applicable fee.
Enable encounter parking
Quickly park or set aside encounters until they are ready to be sent to the payer and avoid unnecessary denials from sending claims too early.
Let's start by enabling encounter parking. Click Utilities to get started.
Click Preferences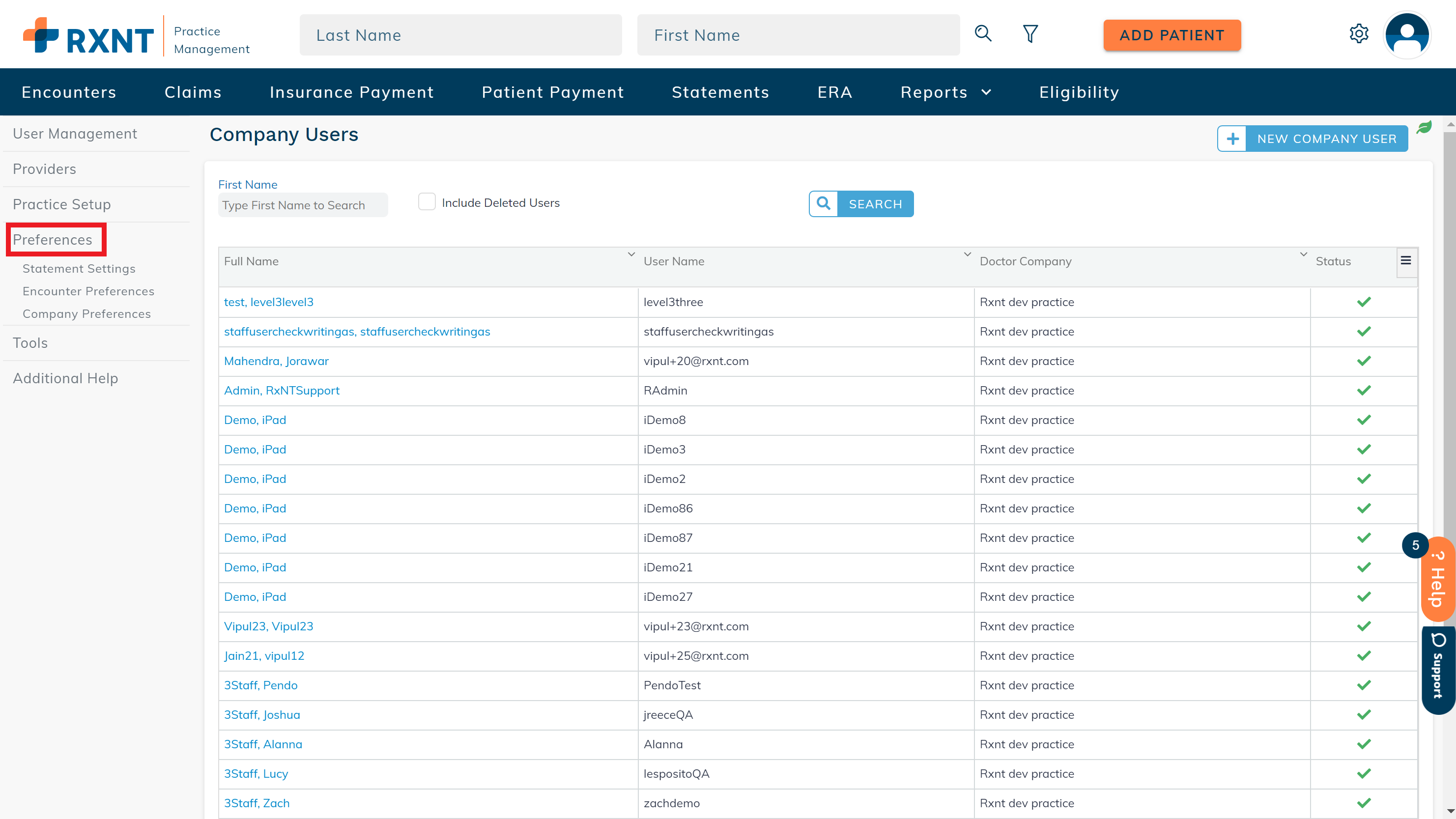 Click Company Preferences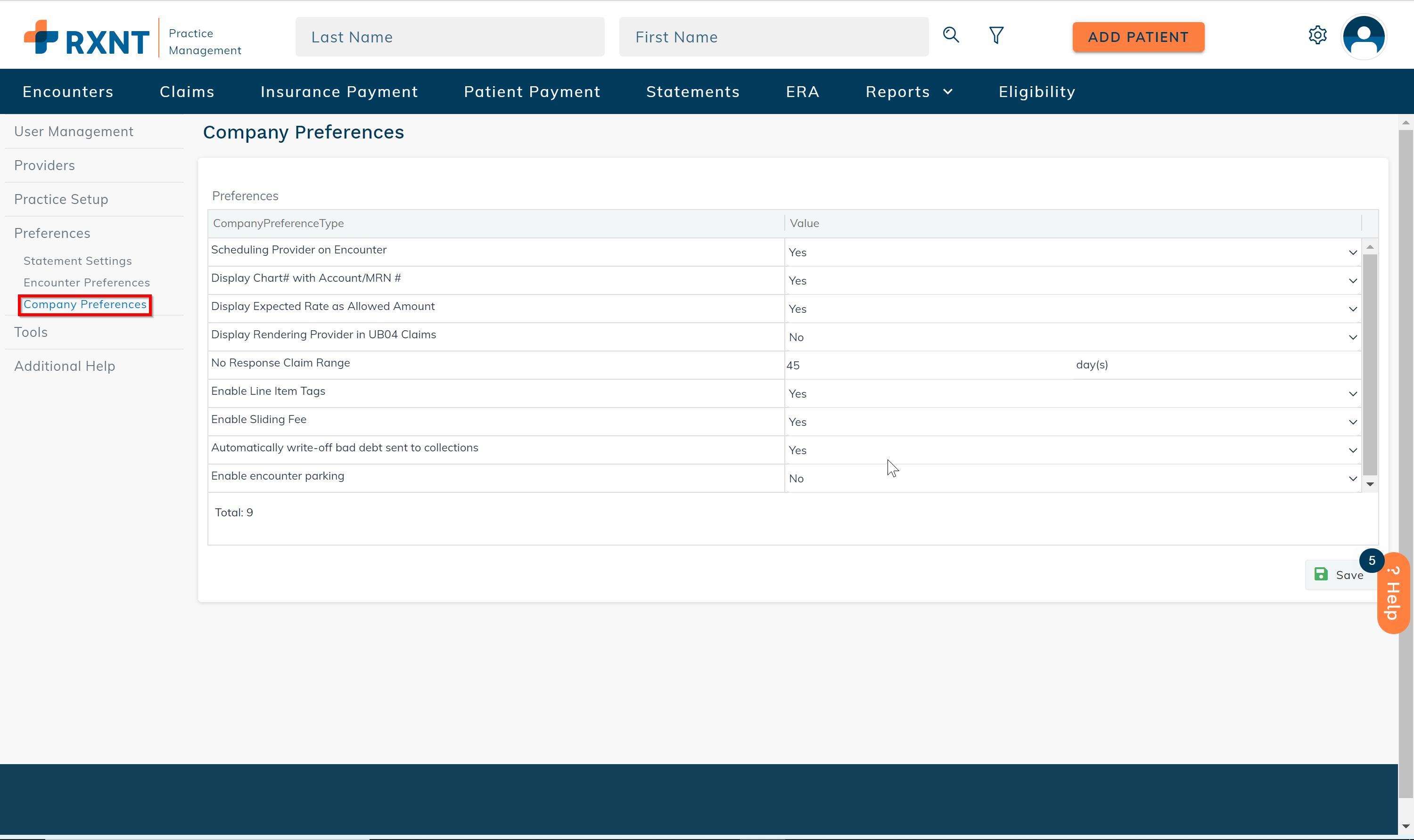 Turn Enable encounter parking to Yes.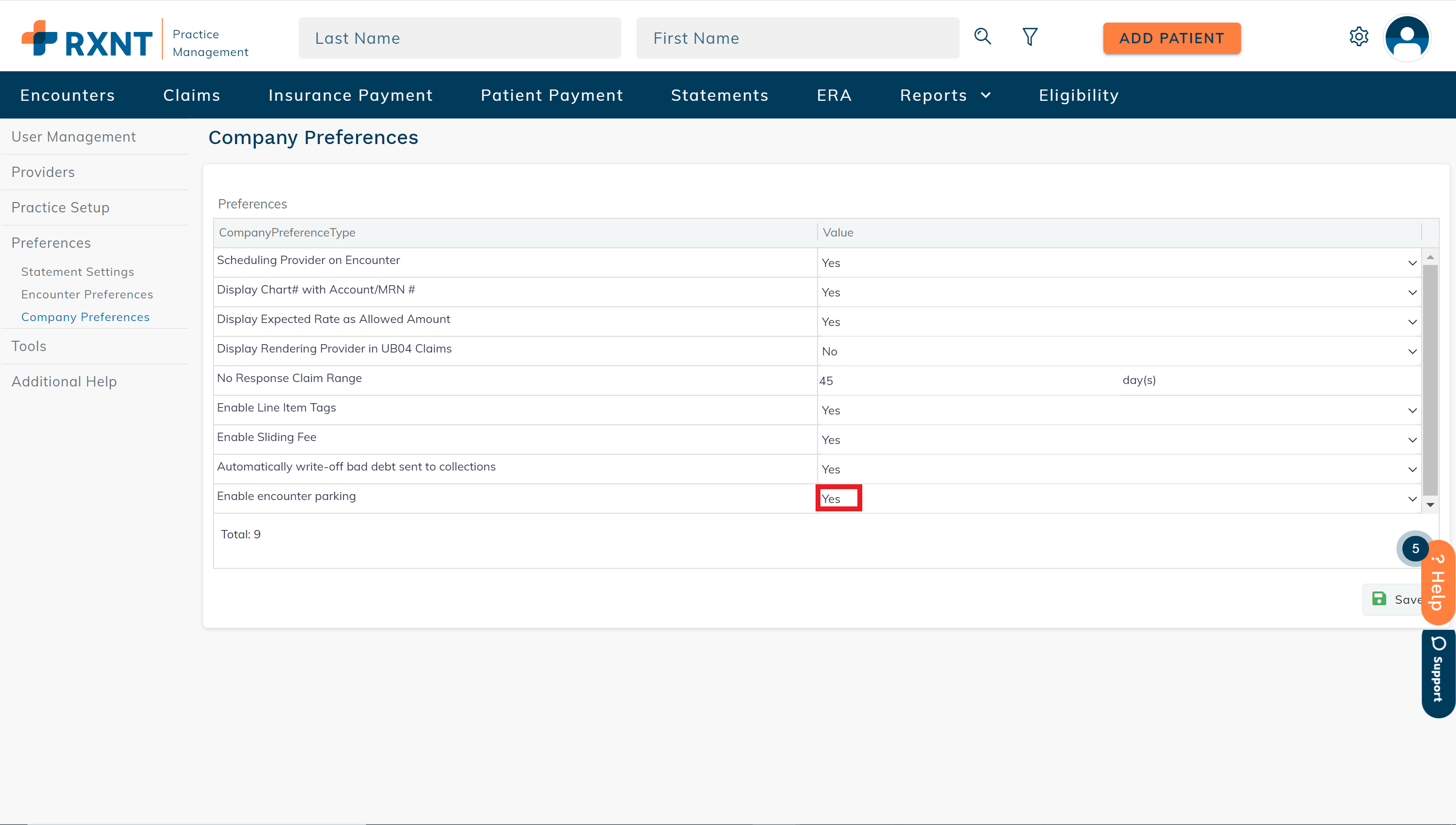 Click Save.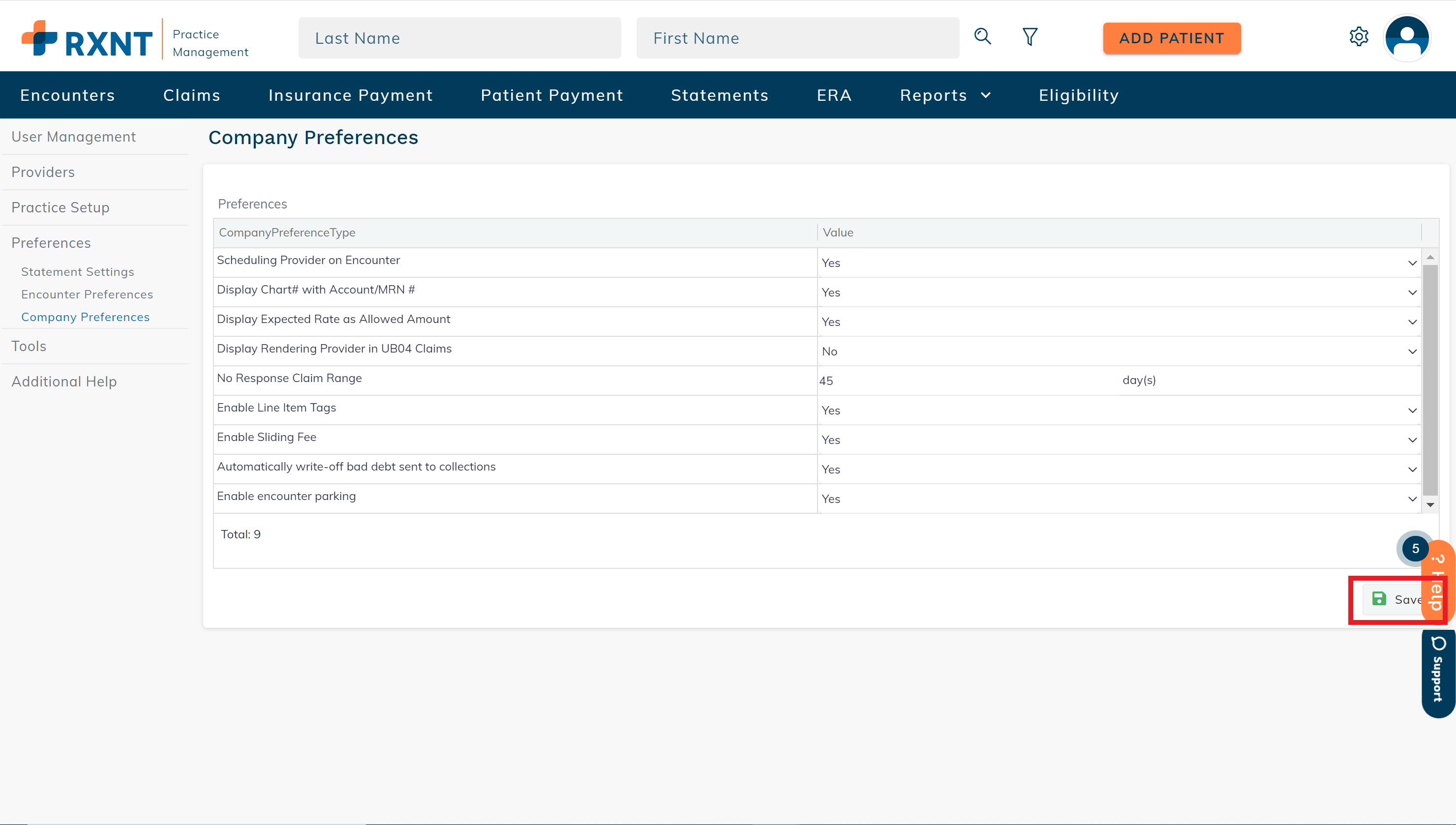 Note: Logout of RXNT and log back in to apply your updated company preferences.
Setting default fee schedule for self-pay encounters
Associate the company preference Default Self Pay Fee schedule with a fee schedule so that any new encounter (with a Self Pay case) added to the system or imported from another system will automatically get populated with the selected fee schedule.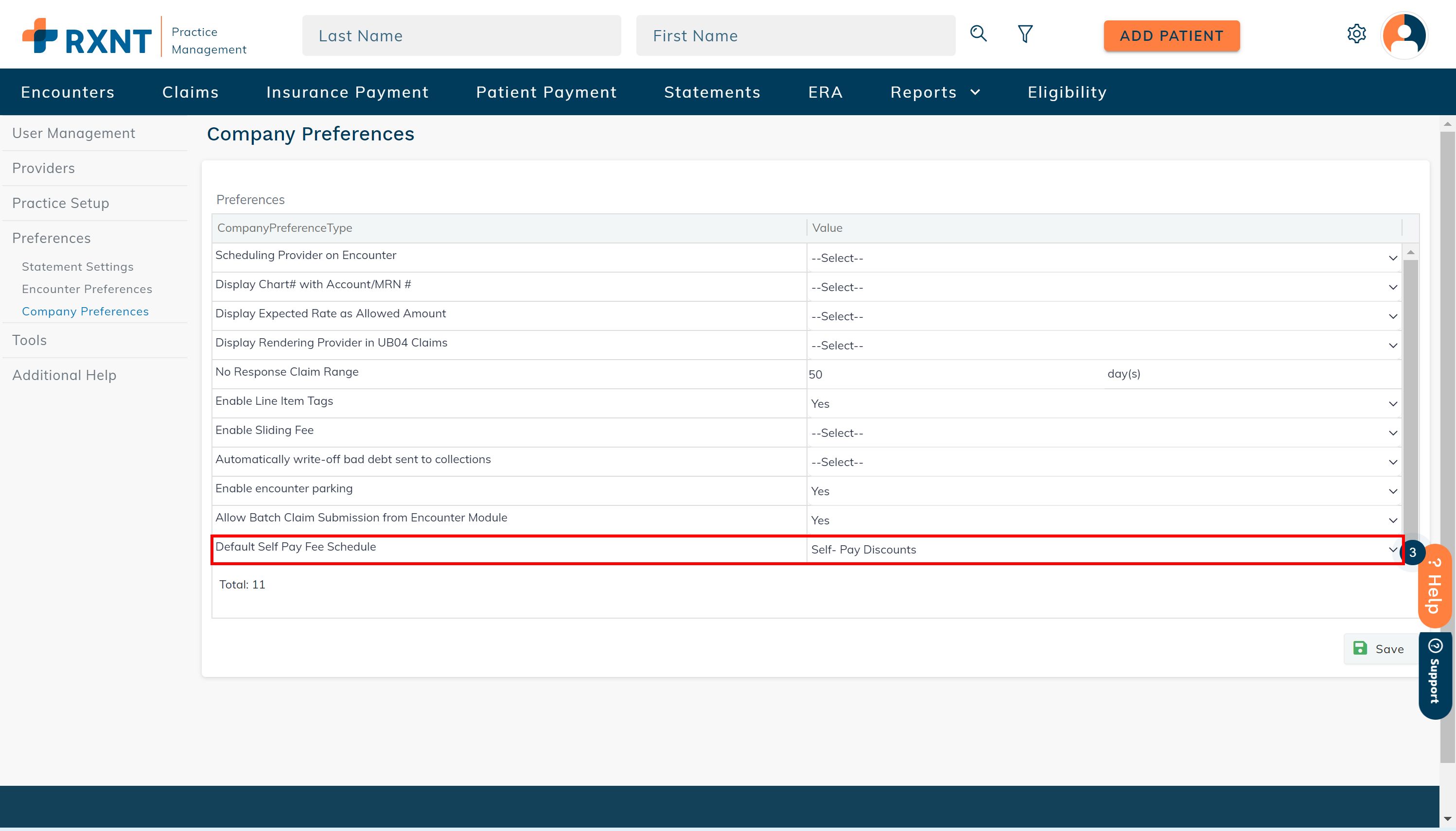 Automatically write-off bad debt sent to collections
This feature saves you the time and effort of going through and manually writing off each and every bad-debt statement. Quickly write off balances for one or more bad debt statements in RXNT.
Select Utilities.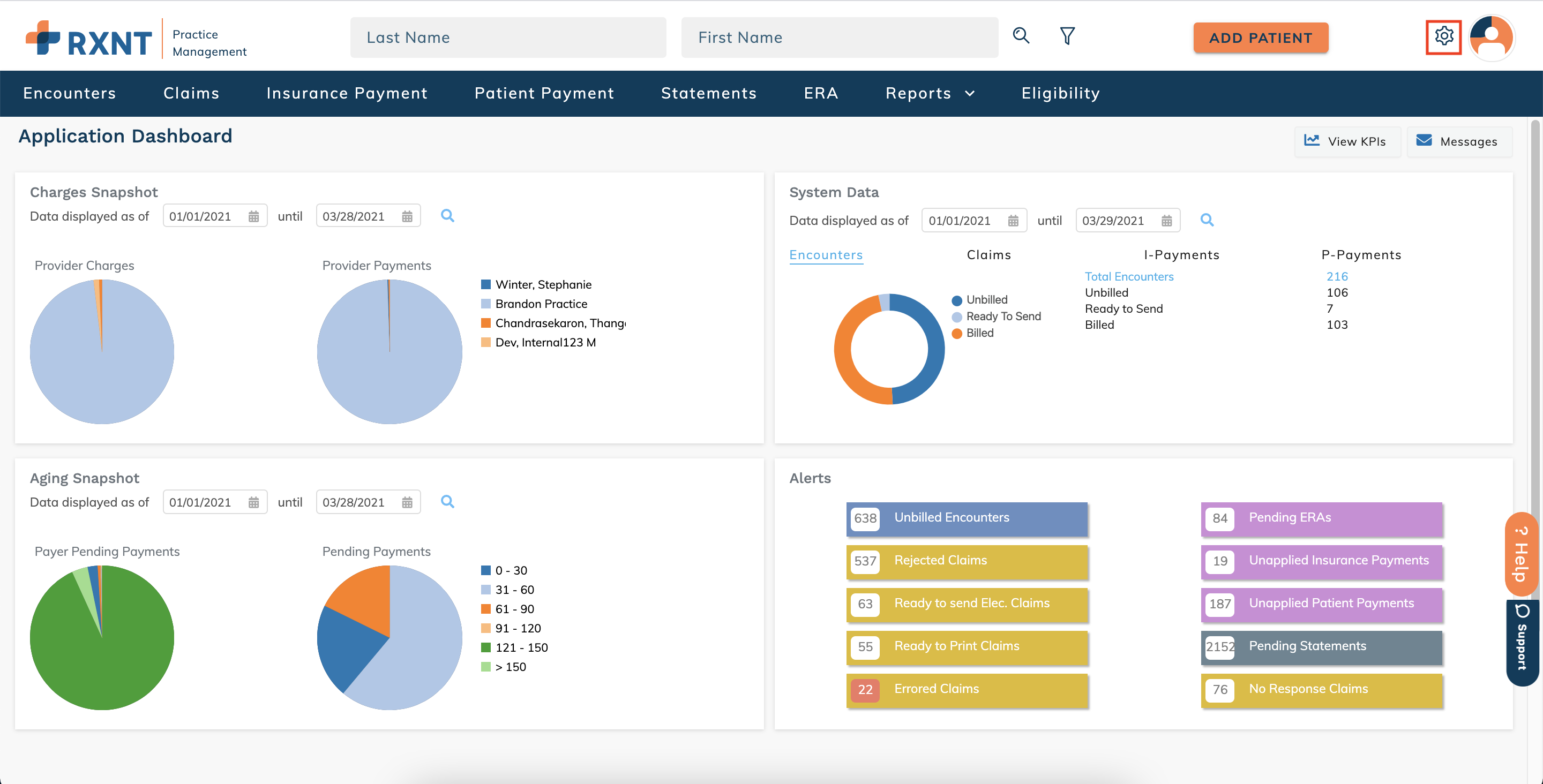 Select Preferences and Company Preferences.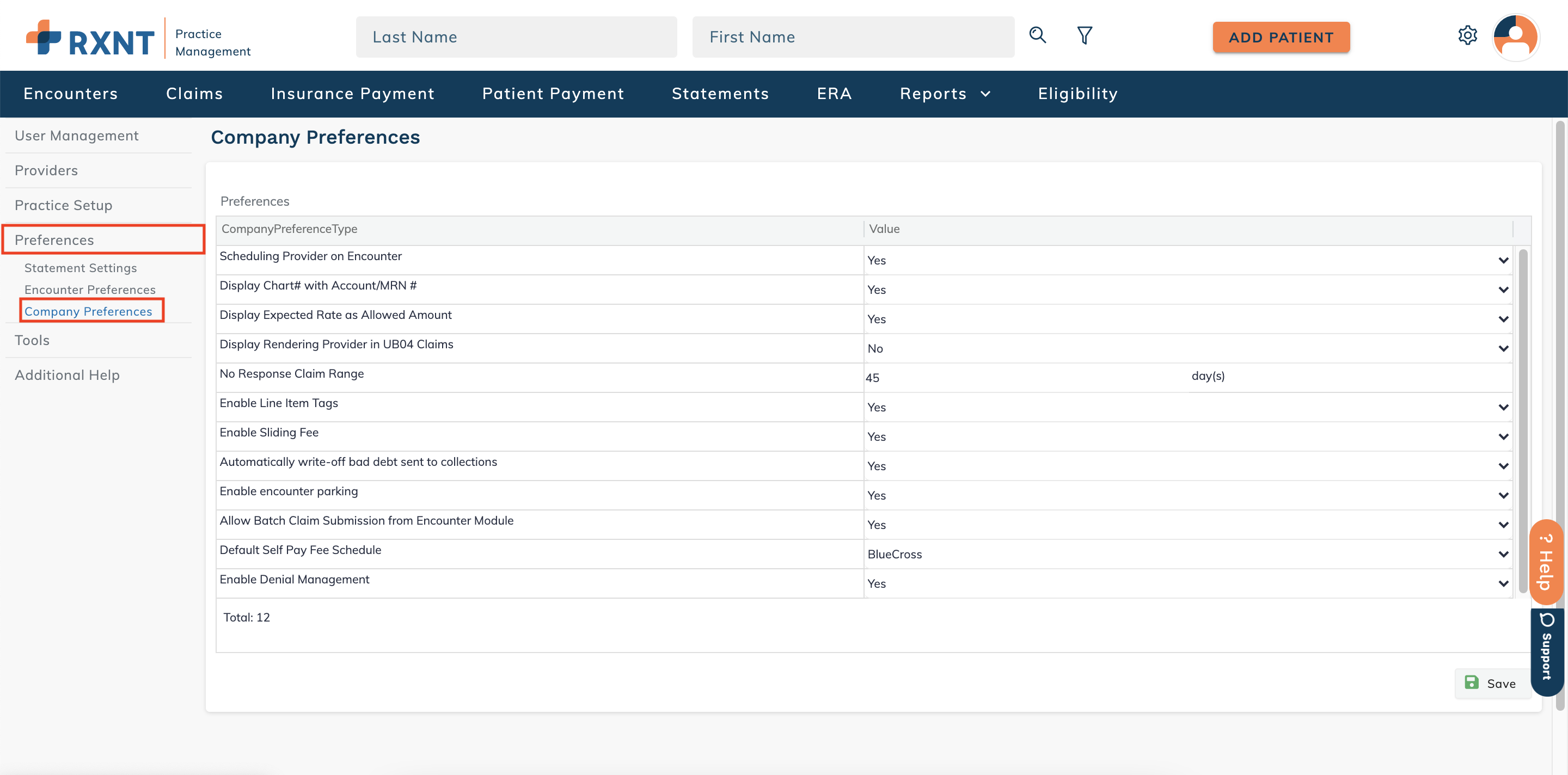 Select Yes for Automatically write-off bad debt sent to collections and click Save.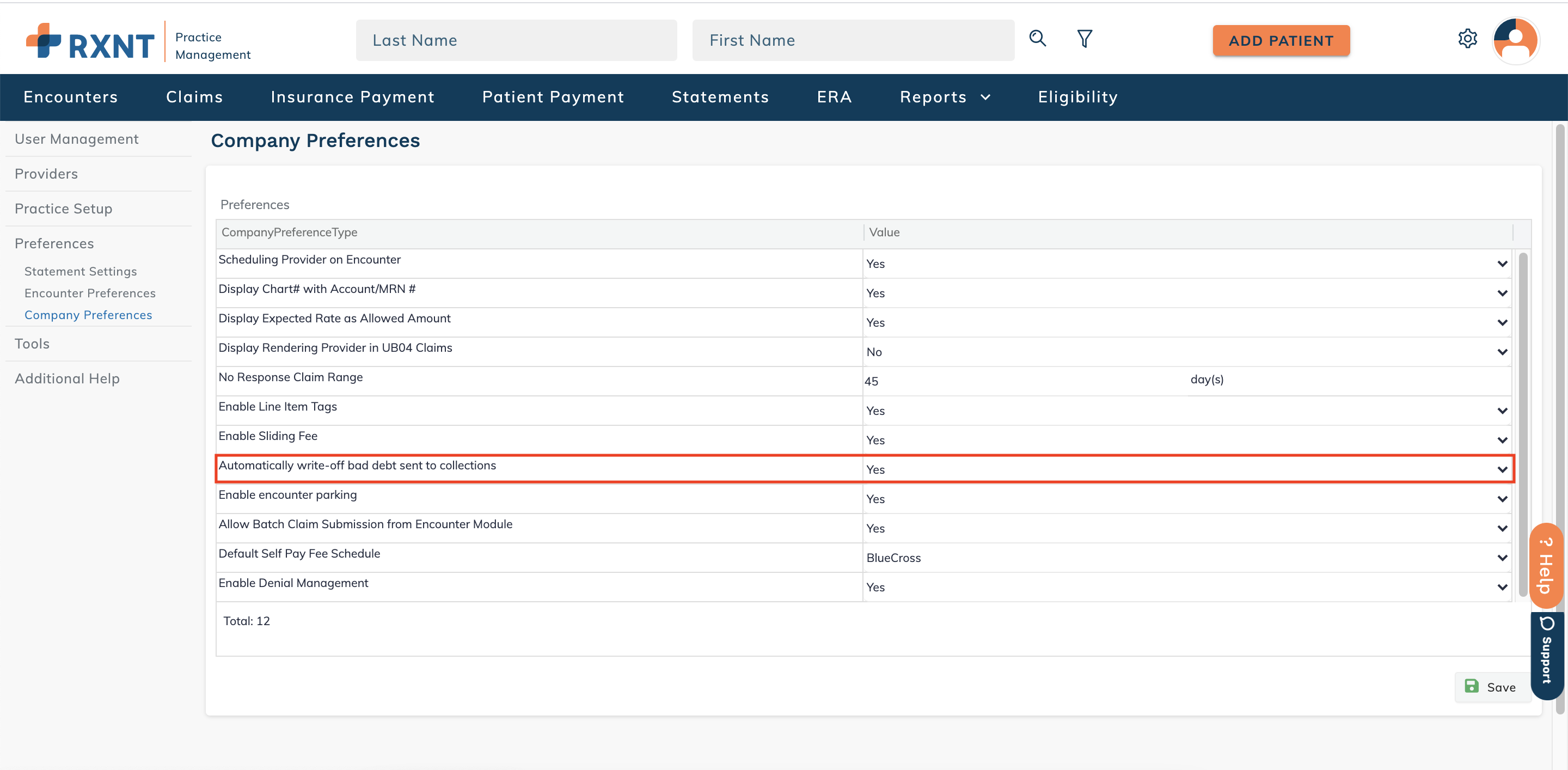 Log out of RXNT to update your settings.