What is the RXNT grid?
The RXNT grid is our interactive and customizable table that gives you increased flexibility for viewing data throughout RXNT and easy summary reporting with minimal setup. Look for the Columns, Filters, and Favorites menus in the upper right of the table.
Organize your data
Customize columns and group data
Pivot data for a quick summary
Sort and filter
To sort by a column, click on it's heading.
The first click will sort the column ascending, the second click will sort it descending, and the last click will reset the sorting. A or to the right of the column name will indicate that the data is sorted.
Columns can be filtered by clicking on the date box under the heading.
Type in a date to filter a date column. Select the desired items in the list to filter a text or amount column.
Note: The screen filters will be retained until you navigate to a different screen. For example, in any screen under the Claims tab of the Billing system encounters open as a pop-up. Any filter or sorting applied to the screen will be retained after the encounter pop-up closes.
Save favorite settings
Once you've sorted and filtered your RXNT grid, you can save the settings for later. Click Favorites to save a favorite table filter.
Enter a name for the favorite filter. Click Save.
Once a favorite has been saved, you can set it as your default view for the table.
Click Favorites to open the saved list, then click the checkbox next to a favorite to make it the default view for the table.
Download data to CSV or PDF
Click to download the report as a .csv file.
The downloaded file can be opened with Microsoft Excel, Google Sheets, or Pages for Mac.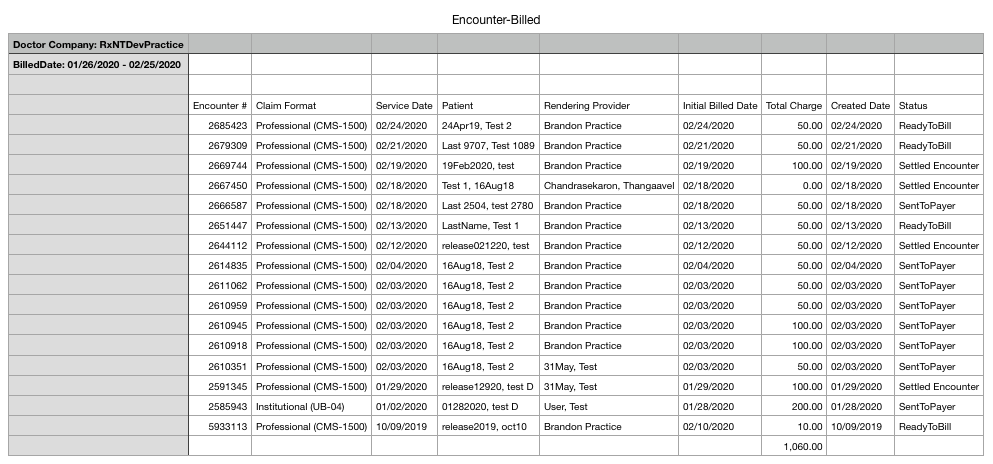 Click to download the report as a .pdf file.
The downloaded file can be opened with any PDF viewing application.

Still need help? Contact us!
Have a great idea? Tell us about it!