Think of Patient Funds (Patient Credit or Debit) as a Patient Piggy Bank! There are a few different ways a Patient Fund can be created.
1) If a user posts a patient payment, however does not allocate the funds to specific line items, we will create a Patient Fund/Credit
2) If a user would like to create a Patient Fund/Credit manually as the patient perhaps paid a retainer for upcoming services. The user can do as explained in step one, or go to Menu > Patient Funds > search for patient (if the patient has never had a fund before they will not show by searching for them. At that point simply select New Patient Fund) > select patient > select the green plus sign Patient Fund Details > enter the Transaction Type (Credit or Debit) > enter the amount > Save


3) If a patient paid a certain amount for a date of service, then the payer comes back stating the patient owes less. RXNT will automatically create a Patient Fund/Credit for the overpaid amount by the patient
To apply Patient Funds/Credits to specific dates of service, users can
1) Go to Menu > Patient Funds > search patient > select patient > select Apply Funds. RXNT will then place the user in a new Patient Payment and have Patient Funds as the Method of payment. Upon Saving and Posting this payment, RxNT will log a Patient Fund/Debit for the amount allocated in the Patient Fund Details for this patient for logging and tracking purposes.
2) Select Patient Payment (or P-Pmnt) > New Payment > search patient > and allocate a payment as normal, however select Patient Funds as the payment method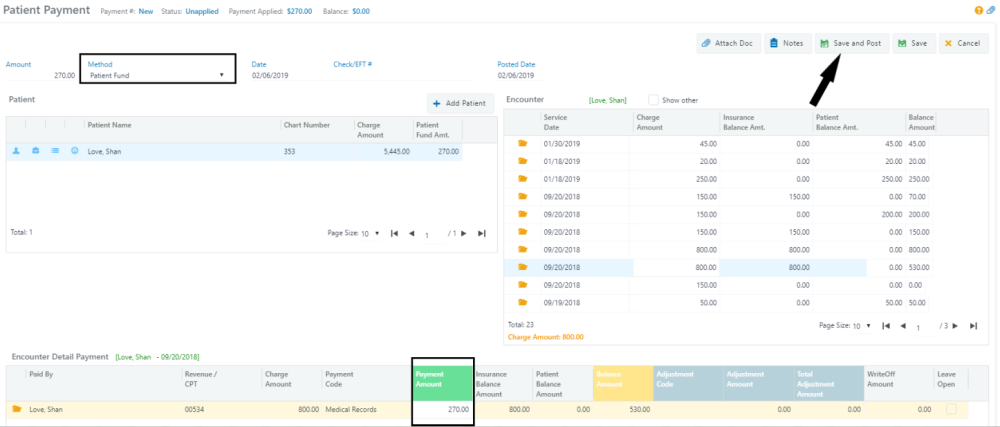 For Reporting Purposes, there are a few options
1) Users can go to the P-Pmnt screen > add Payment Method Patient Funds to the report > and search the Applied tab. This will show any monies allocated in a given time frame from the Patient Funds
2) Users can go to Menu > Patient Funds > select Search, to search all Patient Funds that are in the system that have not yet been applied. Or search for a specific patient if that is what is needed.
3) Users can go to Reports > Over Payment Report, to search any Over Payments in general for both patients and payers.