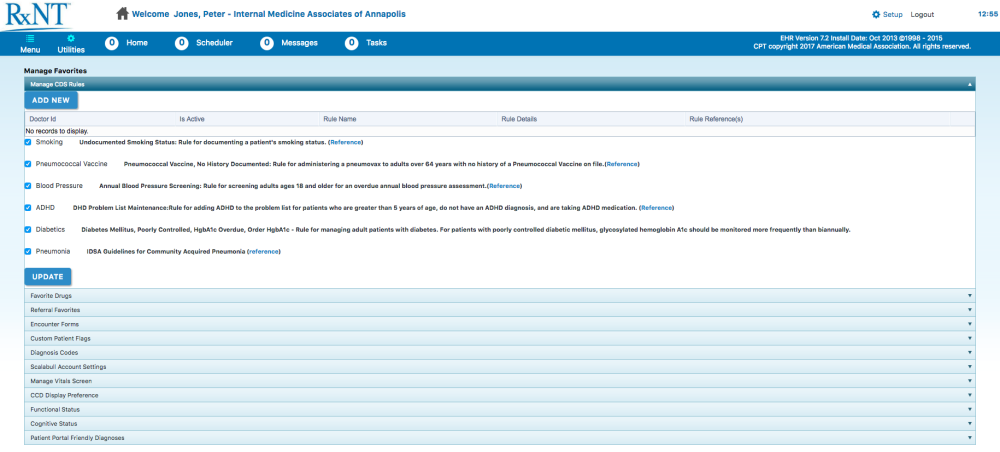 Manage CDS Rules: This option is only available for level 4 providers. This allows providers to activate clinical decision support rules and create new clinical decision support rules.
Favorite Drugs: Allows users to add and remove medications from a provider's favorite drug list. This list is provider-specific NOT viewable on a group level
Referral Favorites: Allows users to add, edit and delete referring providers and institutions. This data is used when referrals are sent via RXNT.
Encounter Forms: Allows users to add and remove encounter forms to the provider favorites. These forms will be available to use when adding new encounters.
Provider Groups: Provider Groups can be created to be viewed together on the scheduler. To create a provider group, choose "Add new grouping," create a title for the group and click "Insert." To add providers to the group, click the arrow to the left and choose "Add Prescriber."
Custom Patient Flags: Allows users to add, edit and delete custom patient flags. Patients can be flagged so an alert shows up in red when the patient is searched for.
Diagnosis Codes: Allows users to add and delete a provider's most frequently used ICD-10 codes to their favorite list.
Scalabull Account Settings
Manage Vitals Screen: Allows users to determine which vitals fields show up
within the encounter form for each provider.